History of Our Burlington's Small Private Historic INN @ 204 South Willard Street
"Top 10 Style Icon:— "INNS with CUTTING EDGE DESIGN. B&B.com. (2015)

Our Timeline:
2006 – Talented Artist and Brooklyn Jewelry Designer, Shelly Voorhees (some of her artwork hangs at the INN), daughter of your innkeeper/designer, Linda Wolf, makes a rare find: a small mansion in the historic Hill District for sale. She pleads, "Mother – you must buy this property and turn it into a Bed & Breakfast!" Linda acquiesces (that means she gave in) and thinks, "Fantastic! We'll be open in a year."
2007 – Application for permits begins and then permits to obtain more permits. Linda studies two new languages: Legalese & Government-speak. Restoration and renovations begin in compliance with The DaVinci Code. Daughter and boyfriend flee.
2008 – Construction work continues ad infinitum (that means forever). Linda consults a doctor who diagnoses that she is "hemorrhaging money."
2009 – Ibid. (Here we go again with the Latin: That means "repeat the above."
2010 – We're starting to sound like a broken record here. Except for the fact that, thanks to a couple of contractors, Linda learns to spell "unscrupulous."
2011 – Linda consults a dermatologist for what she believes is a scalp condition. Nope. Just an accumulation of plaster dust, saw dust, fireplace dust, attic dust, cellar dust, and everything except fairy dust.
2012 – The INN opens in late summer and is an immediate success and garners excellent reviews.
2013 – The INN continues to win awards in the hospitality industry. A lovely young couple who enjoyed their stay announce, "Someday, we hope to have our own Bed & Breakfast!" Linda fixes them one of her "secret recipe" sangrias and counsels them.
2014 – More awards, many more appreciative reviews. No sleep (except for Cutie Catie, everyone's favorite inn kitty).
2015 – During her usual welcoming tour of the inn, Linda tells a guest – a psychiatrist from Australia – that she has "a Belvedere." He begins a search of the medical literature until she explains that is what some call a cupola or a "widow's watch." She knows it's on her roof, but she hasn't seen it in a while. She's too tired to climb the stairs.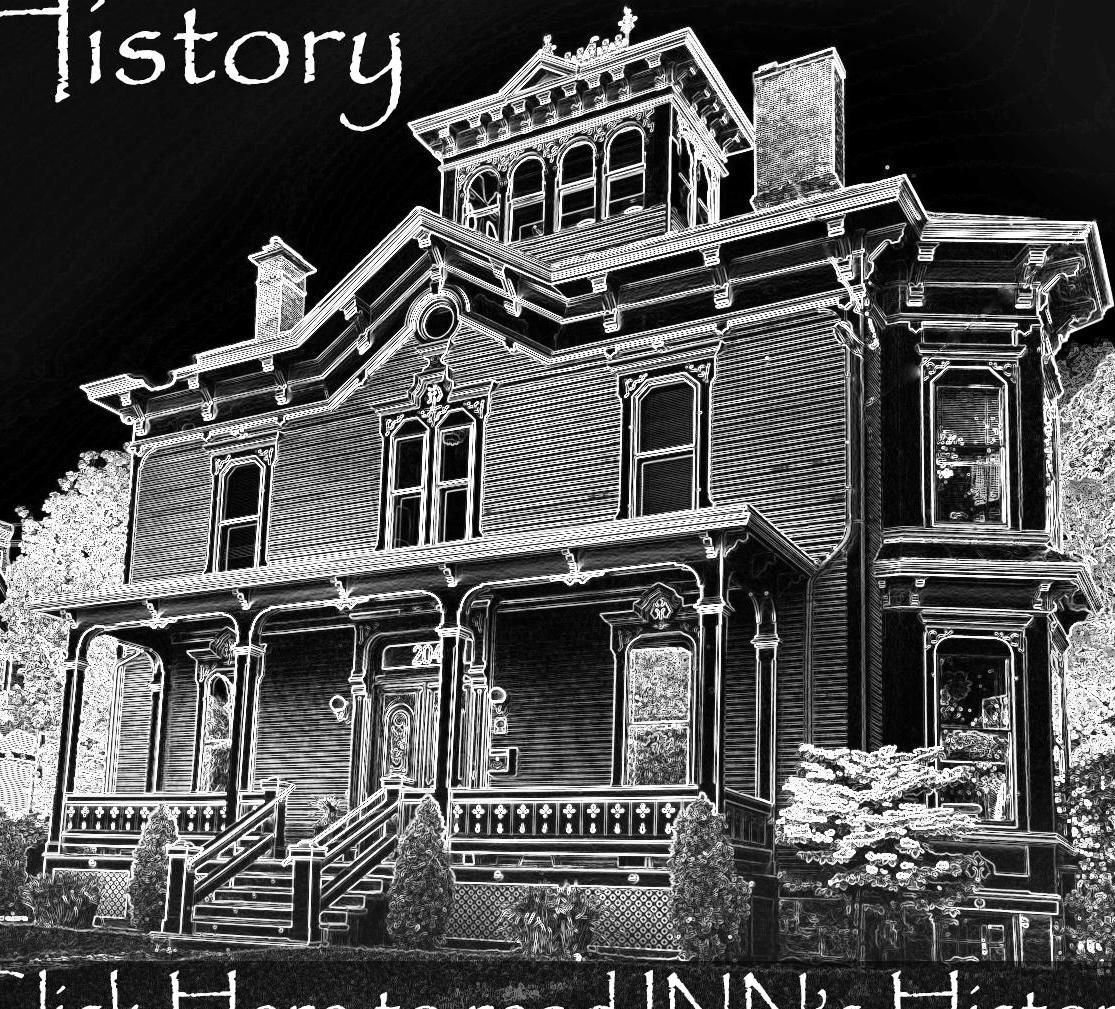 Our stunning Victorian home was constructed in 1881, and designed by noted architect A.B. Fisher, who designed many of Burlington's exemplary buildings and distinctive homes in the historic Hill District. Its Queen Anne-style includes Italianate features such as a rooftop, enclosed Belvedere, also called a "widow's watch," as legend has it that the mariners' wives would scan Lake Champlain, especially during stormy weather, waiting for ships to come into safe harbor. (They had cause for worry; there are over 300 historic shipwrecks at lake's bottom.)
204 South Willard Street was built as the residence for L.A. Walker, who owned a marble and granite works in Burlington, Walker Brothers. He later formed a partnership, Walker & Taplin, which dissolved after 1888. Walker resided in the home until 1907, when it was sold to an attorney, Edmund Mower, and his widow, Maud, lived in the home until after World War II. Linda Wolf purchased the property in 2006 and opened Made INN Vermont in August, 2012.
A Symphonic Experience. Pet And Child Friendly B & B. BOOK NOW @ Our LUX Mini-Retreat! www.madeinnvermont.com
We Think We Are: A Top Historic Inn of VT . Timeless & Cutting Edge Style . Small Luxury Hotel in Downtown Burlington . vermont b&b . vermont bed and breakfast . vt bed and breakfast . vermont wedding locations . vermont wedding venues . vermont bed and breakfast . wedding venues vermont . wedding venues in vt. Luxury Escape . Best Views Hotel Inn B&B . Best Downtown Burlington VT Lodging Accommodations . bed and breakfast in vermont . bed and breakfast wedding . bed and breakfast wedding venues . burlington bed and breakfast . burlington vermont bed and breakfast . burlington vermont bed and breakfast . places to get married in vermont . vermont b&b . Vermont Honeymooner
Come for the Design. Stay for the Experience.®
"This Bed and Breakfast is truly unique. The hotel is in a beautiful old Victorian house filled with charm and history. The rooms are all decorated uniquely. My bed was very comfortable and the room was quiet. There was a chalk board wall where people leave messages about their stay. "
— Five-Star Yelp Review
"Linda herself is fun to talk to & share a laugh. We felt completely welcomed into her home and comfortable. Linda takes time to show you the entire house & encourages you to explore all of the nooks & crannies. Linda also has excellent recommendations for places to dine, things to see & do while in Burlington. We absolutely loved every restaurant she suggested. "
— Five-Star TripAdvisor Review
"Historic Burlington Hill District's Bold Boutique Hotel Serene Old Town MiniRetreat"
— L. Wolf
"Revolutionary Experience. Historic and Chic."
— L. Wolf
". . . .although it was pricier than your average Motel 6, it seemed to be on par with everything else we looked at in Burlington. We felt like we got every penny's worth . . . free beer and snacks, awesome views from the top room during sunset, great advice and help with dinner reservations, . . . we had to leave before the breakfast was served, . . .made us a to-go bag the night before. "
— Five-Star TA Review
"Linda was amazing. Upon welcome, she spends just the right amount of time providing you with all of the maps you need, suggests some wonderful restaurants, gives you the tour, offers you some home-made sangria or a local beer (both equally terrific), and then leaves you to sink in to your room. But, upon discovering it was my wife's Birthday, Linda went out and bought 2 "Happy Birthday" balloons, two small cupcakes, and a lovely card."
— Five-Star Yelp Reivew
"My husband & I just returned from our birthday celebration in Burlington. I had been wanting to stay at Made Inn Vermont, for a long time, so I was very excited when we were able to book a weekend at this Inn. We LOVED every single aspect of our stay. The home is unbelievably gorgeous & so cool! The decor is very eclectic. Linda, the proprietor & Innkeeper, has done a remarkable job of renovating & decorating. It is full of detail & FUN!"
— Five-Star TA Review
"Brilliant Hotel"
— Five-Star TA Review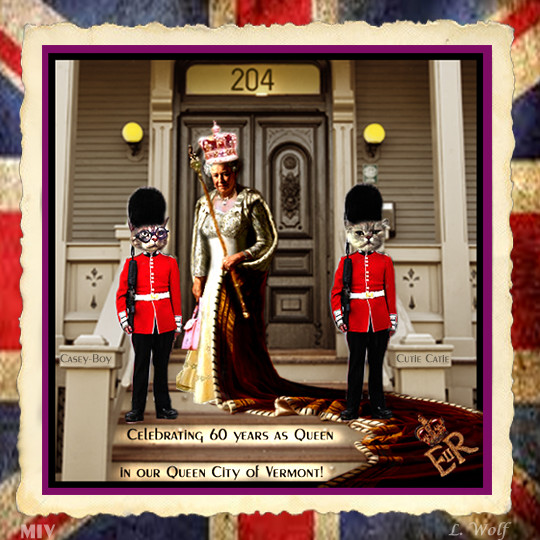 We were celebrating the Queens Birthday in Vermont's Queen City: Burlington with our Innkitties here!