At our bed and breakfast Burlington Vt near University of Vermont and Champlain College room (906) offers: Wide-Planked Barn Wood Floors, Contemporary Desk w/ built-in Vinyl Player & Vinyls Collection, A Black Iron Headboard Handcrafted Platform Queen Bed, a Native American Water Drum, Chalkboard Wall, Chic Unique & Cozy room, in again…A Best Burlington Vermont Bed and Breakfast Fun Designer Room w/ so much more. For More Info: Click through to full page description or Call Us @ 802.399.2788; we'll help you design the perfect "Vermont Dream Vacation" or Study our Website & BOOK DIRECT. Come for the Design. Stay for the Experience.® ROOM RATE: STARTING @ 259...
"Top 10 Romantic Bed & Breakfast" by IloveInns.com. (2014)
WHERE YOUR STARS ALIGN -Stylish digs with a lively parlor, perfect for year-round mountain adventure — or just chilling out. in Burlington's No. 1 BOUTIQUE EDGY B&B.
Bed and Breakfast in Vermont Burlington . Burlington Bed and Breakfast . Bed and Breakfast Vermont . Bed and Breakfast Burlington VT . Vermont Bed and Breakfast
In size, 906 is cousin to 903, but offers a queen-size bed
All guest rooms start with the same amenities including:
. mini-fridge full of complimentary Vermont snacks,
. a robe and slippers
. flat-screen HD TV, DVD player
. HBO/ SHO on-demand cable
. under-bed LED lights
. vinyls and players and more...
and (the only room with barn wide planked oak floors), giving a little more rustic-authentic feel.
Each of our guestrooms is distinctive (how could we ever pick a favorite?). We're always entertained by returning guests and their reasons for choosing a particular favorite room. Of course, all share the same amenities: plush robes and slippers, complementary snack assortment and beverages in the in-room mini-fridges, in-room vinyl collection and turn-tables, colored under-bed LED lighting, in 906 an Smart TV @ 42 HDTV with DVD player and on-demand HBO/SHO premium cable channels, and a blackboard wall & chalk for your graffiti urges.
Room Rate: Start @ $259...ALL-INCLUSIVE
A Burlington Vermont Landmark Building Reborn
— Where pride, infectious warmth, artistry and passion for architecture abound. Made INN Vermont Bed and Breakfast is in the midst of a PAST MEETS PRESENT at our Small Luxury Hotel, where a circa-1881 building houses a space that's reflective of the city's newest millennial chapter. Think boutique, artisan elements like ottomans crafted from the recycled paired w/ thoughtful touches and Vermont's wool plaids that celebrate Burlington's heritage showcased in the lobby's collection of Vintage games, toys and Vermont's New England Historic architecture. Given the location within walking distance of Vermont's (we think) world-class restaurants, University of Vermont, Champlain College, The Burlington Harbor, The Flynn and Higher Ground Performance Halls, theater , Church Street Marketplace and so much more, there's no better place to base yourself in Burlington.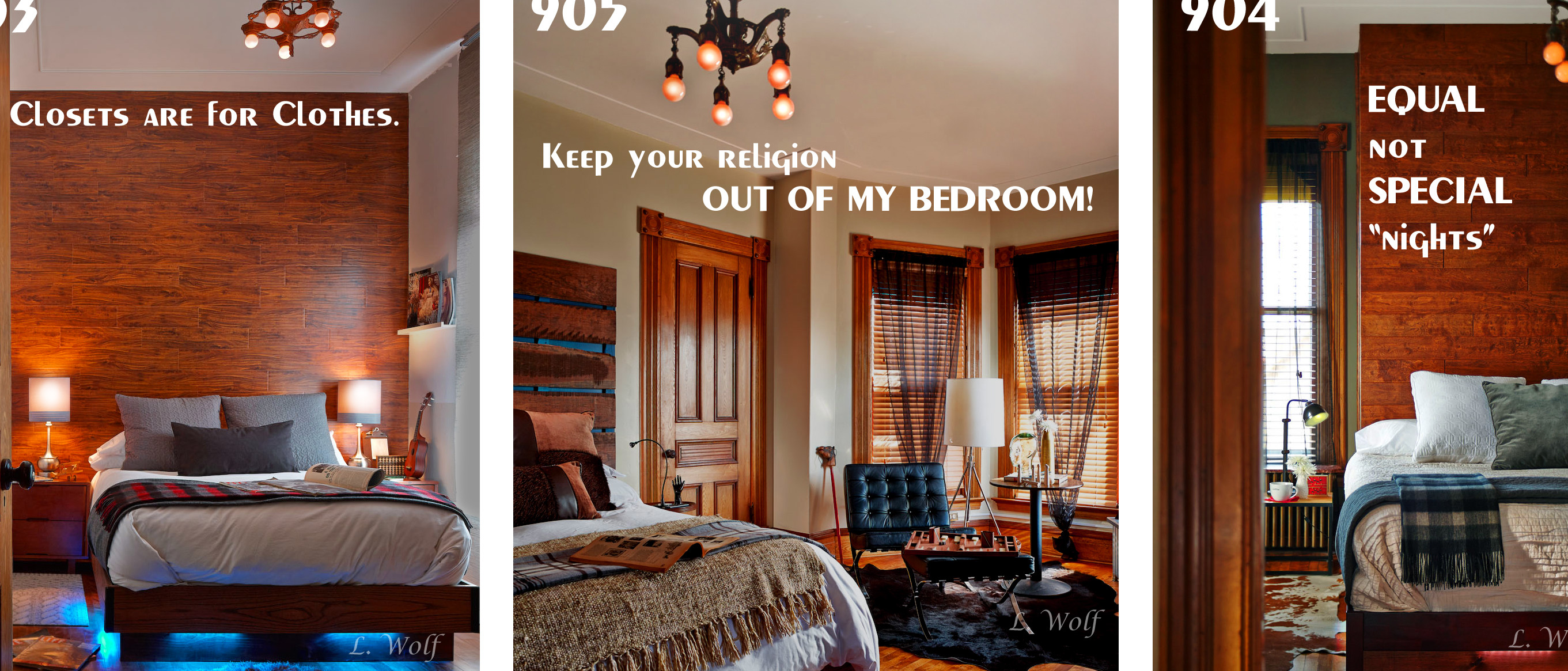 A stay at MADE INN Vermont is all about the experience.
Whether you're after a single room, double room or executive King Tempurepedic bedroom, our designer hotel has it all.
Here you are. We just knew we'd find each other. You: A savvy hip traveler who's always up for thoughtful fun perks and looks to find hotels that will add to their vacation . . . (beyond the walls and beds). Us: Made INN Vermont: the most loved Burlington Boutique Small Luxury Hotel with/a passion for making it personal.
We're stylish —you'll love our bold and whimsical designs—(know we don't do stuffy, we don't do flowered wallpaper or bedding, or old-fashion formality ) —just real. Real Flowers. Real Food. Real Brew & Real Crew.


A Taste of New Orleans in Burlington, VT... Where the drinks are served on the Patios, in the Hot-Tub, on the Victorian Porches and in our Fabulous 12 Window Viewing Cupola Room!
A Pet Friendly Hotel Inn . Hotel near Flynn Theater . VT Bed and Breakfast . Hotel in Vermont . Wedding Elopement B&B . Hot-Tub Hotel Burlington . BTV Airport Hotel B&B INN . Best Views B&B Hotel. Burlington VT INN B&B . Best Place to Stay B&B . Hotel Near UVM . Hotel Near Champlain College . Hotel Near St Michael's . Hotel Near Church Street . Hotel Near Harbor . Best Downtown Hotel .Top Pet Friendly Hotel VT Inn . Dog Friendly Hotel VT . Best Burlington B&B . Best B&B Burlington VT . Bed and Breakfast VT . Airport Hotel B&B. Burlington VT Hotel . Downtown Burlington B&B
Come for the Design. Stay for the Experience.®
Room Rate: Starting @ $259...
Each guest room has it's own private, external bath located right down the hall with its own lock and key. This allows guests to choose not only the bedroom they prefer, but the bath type as well.
ALL ROOMS ARE LOCATED ON THE SECOND FLOOR - NO ELEVATORS.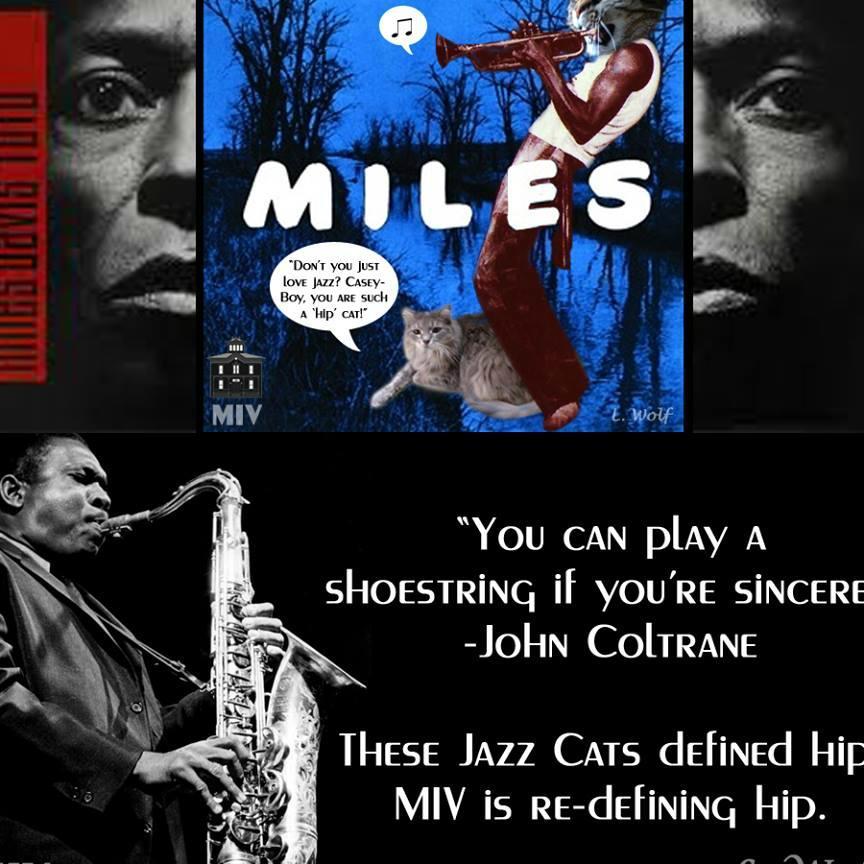 LUXURY BURLINGTON VT ACCOMMODATIONS FOR COUPLES -AS WELL. Experience romantic accommodation for a weekend escape or midweek break.
Quiet, very private, beautiful expansive views, abundant neighborhood energetic pedestrian life, with just 4 guest rooms . . . perfect for couples wanting to get away . . . offering extraordinary B&B extras -- presented with a whimsical Vermont twinkle!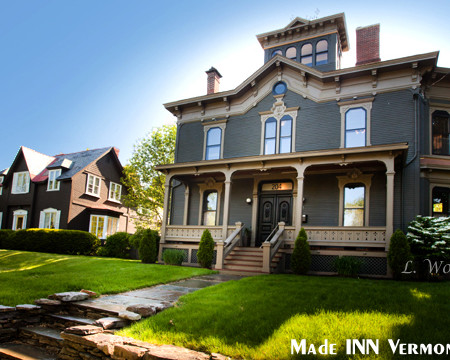 A Made INN Vermont Hotel Stay: Reinvented . Unique Lodging Experience . Offering Superb & Modern "Historic INN" Service.
One of a Kind Hotel: hosted by an irreverent politically incorrect and now we read "hilarious" innkeeper . . . as it just depends on your view. With our INN offering some of the best views of downtown and the lake anywhere in Burlington, we think if you "stay with us and have a Heady" --we will be able to host your views and memories of Burlington to remarkable and fabulous —in fact, we are sure of it!
"A True Gem." --Burbank, California
"The Best INN Burlington" --Brewster, Massachusetts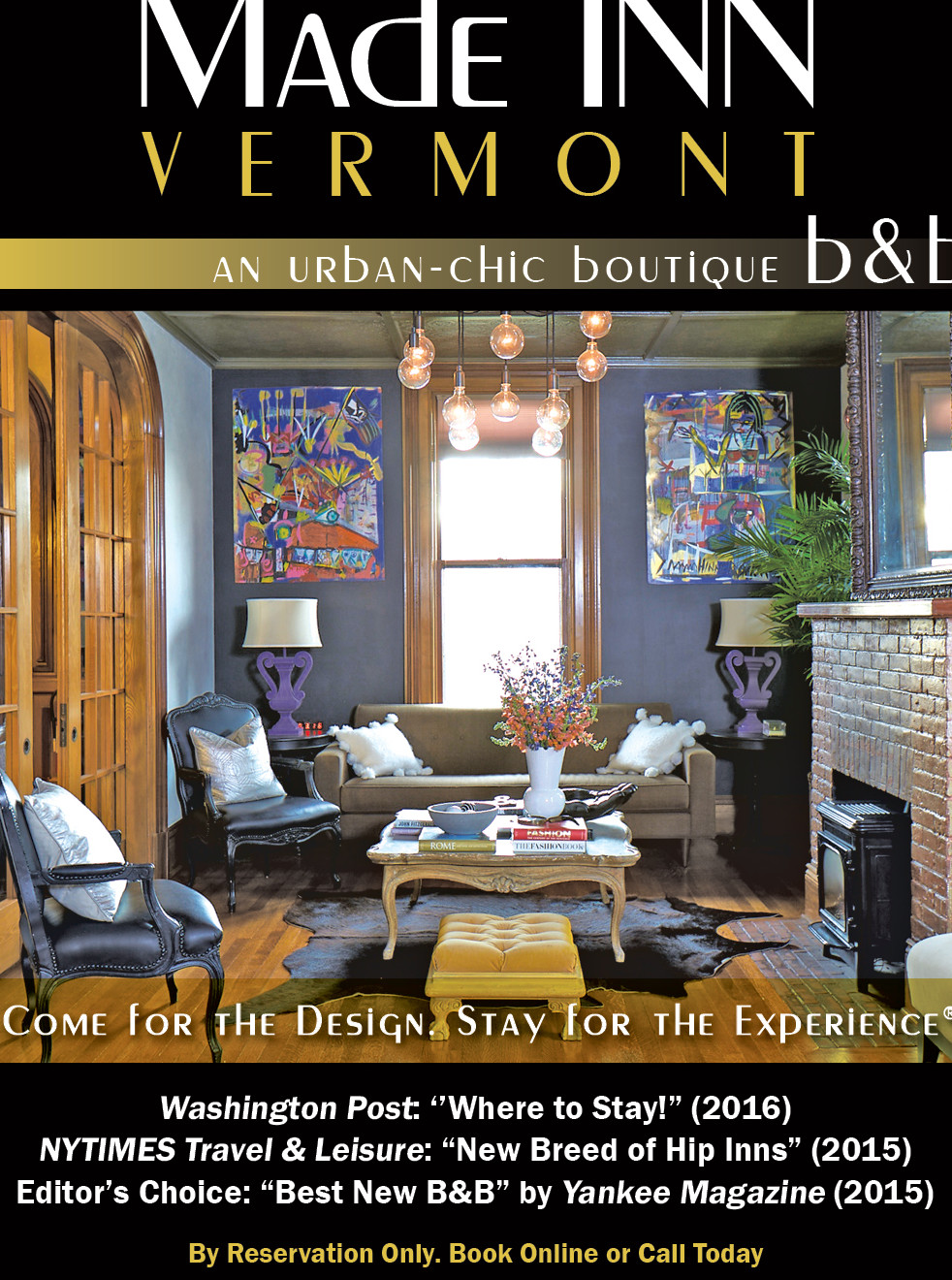 Check Availability