ABOUT OUR: Funky Fun Artsy Intimate Fabulous Hip Historic INN!
"Top 10 Style Icon:— "INNS with CUTTING EDGE DESIGN. B&B.com. (2015)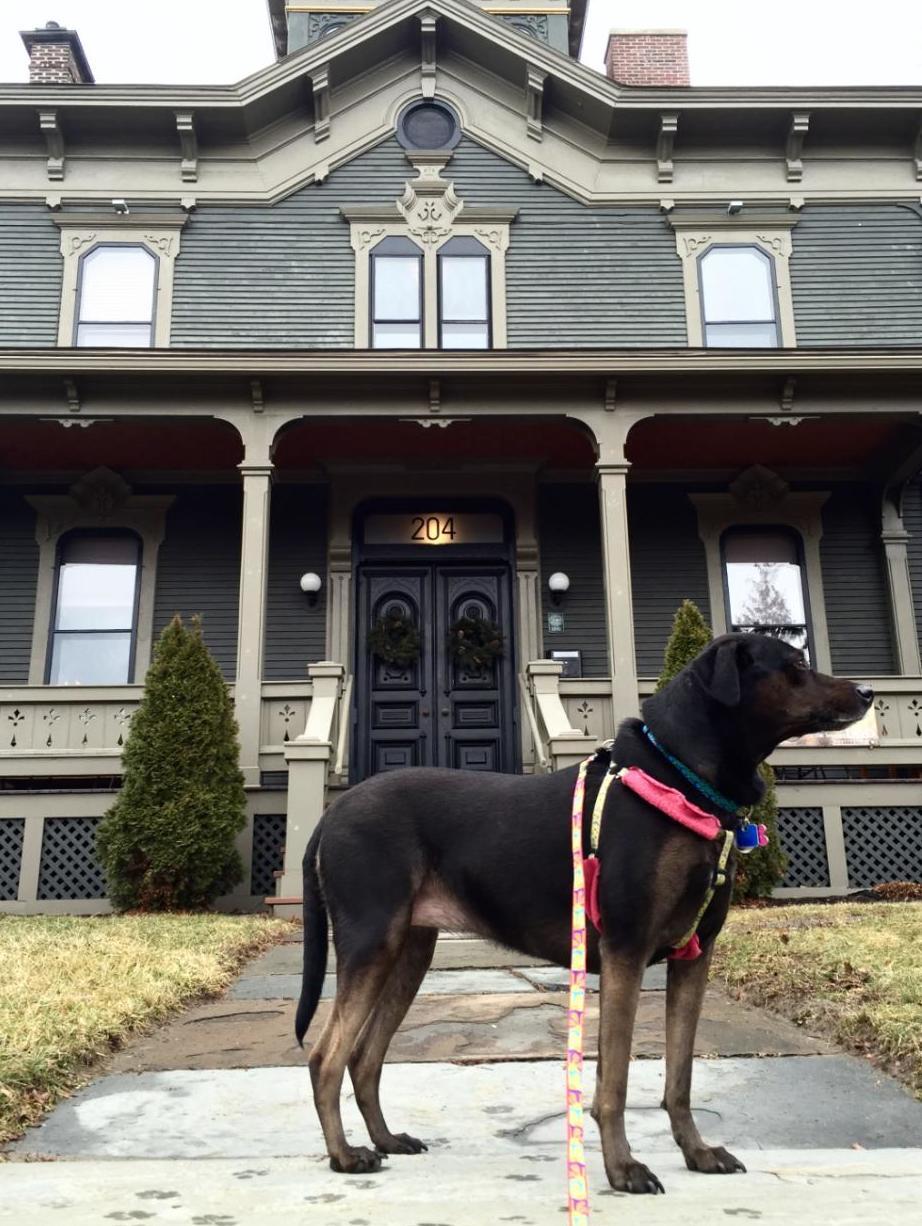 Made INN Vermont is an urban, high-design boutique bed and breakfast located in Burlington, VT. We believe in peace of mind travel. . . and for us, that means connectivity, quality comfort and remarkable stays. We know you have people to see and places to go, that's why our hotel/mini-retreat is ideally located in Burlington's prime historic neighborhood providing everything you need, right where you need it offering 24/7 self-service for the independent traveler, or concierge upon requests . . . built around you. We offer perfectly simple Vermont hand crafted comforts, food, design, hospitality, charm, history in an all-inclusive service.
When your exploring . . . discovering . . . enjoying . . . cruising . . . eating & drinking your way around Burlington, – we'll be ready to help you rest up for the next round. Unwind with our exclusive Vermont IPA brew service, our delicious wine cocktails . . . enjoy stunning views from our Belvedere perch above our city, people watching from our front Victorian Porch, or in our warm, fun, jet-massaging hot-tub . . . listening to oldies, sharing with friends, enjoying authentic and fun hospitality service in a gorgeous 1881 Victorian... surrounded by a neighborhood of historic mansions and 100 year oaks and pines . . . celebrating your life!
WHAT IS MADE INN VERMONT B&B ALL ABOUT?
Well it might be what you' d think . . . things Made in Vermont . . . that is true, but it's not your ordinary historic New England B&B or even ordinary Small Luxury Boutique Hotel. It's anything but, pretty much anything goes, it's an eclectic mix of fun design, art, vintage style, and history blended with contemporary luxury with elements reaching to Quirk! Near the bars you want to be seen at (Nectar's where Phish started their career) , restaurants you hope you booked to eat it at, a place in the know . . . and where you can have a Made @ Made INN Vermont staycation TODAY! Oh, we think the innkeeper is interesting . . . to say the least, you might want to prod a conversation with her . . . but beware . . . you never quite know what direction she might go in...as apparently she has an opinion on everything!
Escape from the ordinary at Made INN Vermont, our new chic boutique Burlington, VT B&B has been voted a "2014 Top Ten Romantic Inn" by iLoveInns.com. This petite hotel is ideally located in the upscale hill section in downtown Burlington (easy walking distance to UVM, Church Street Marketplace, Fletcher Allen). Unique in its combination of Victorian architecture, eclectic decor and the sleek, clean lines of modernism. Everywhere sunlight is allowed in, structure is exposed, and the beauty of design without intention is allowed to open and breathe. An urban atmosphere of texture and luxury, sudden splashes of nature and color excite the senses.
All of the interior spaces manage to be at the same time elegant and whimsical, always hinting at the quirkiness of individuality. A study in contrasts, re-purposed mid-century furnishings live comfortably together with art deco, historic and vintage lighting and modern conveniences. Featured at Made INN Vermont B&B is an ever-changing selection of local artists' works, for pleasure and consideration, available for you to own; a memento of your stay at our INN and your enjoyment of Vermont's Queen City, and a way for you to add to, or begin, your collection.
We are a Non-PC Trainable Establishment, (Linda particularly), also we just don't have this "BY-GONE" years identity going on in our decor. We aren't trying to recreate the old...we are creating a new interpretation of staying in history.
No Flowery Wallpaper . No Flowery Bed-Spreads . No Doilies . No Wall-to-Wall Carpet . No Untouchable Antiques . No Long Heavy Curtains . No Velvets . No Old Historic Interior Furnishings . No Formal Conversations . No Trained Responses.
We are more casual...more relaxed...we will talk if you wish about "The No's." (Don't get Linda started...she has an opinion about everything!). Please take note: We like the "Real" here; we are not trying to get distracted by the superficial...and for us that means:
Exposing our Floors . Exposing our Woods . Exposing our Ceilings . Exposing our Windows . Exposing our Historic Architecture . Exposing our Thoughts...who does that? Brave we are...
It's our understanding that we have challenged other inns in the area because of our trendsetting style, but in the end they are looking better! They are taking down their old (not so attractive) wall-paper, pulling up wall-to-wall carpeting, exposing their wood floors, replacing their flowery bedspreads, installing platform beds, changing up their bathrooms, putting more fun stuff into their guests rooms, and now hanging their HDTV's. They are working hard ... "hippifying" (our word), going for the authentic and we applaud their great job! Yep, as the "ORIGINAL" we say: "Take one more step, let's get FUNKY!"
Come for the Design. Stay for the Experience.®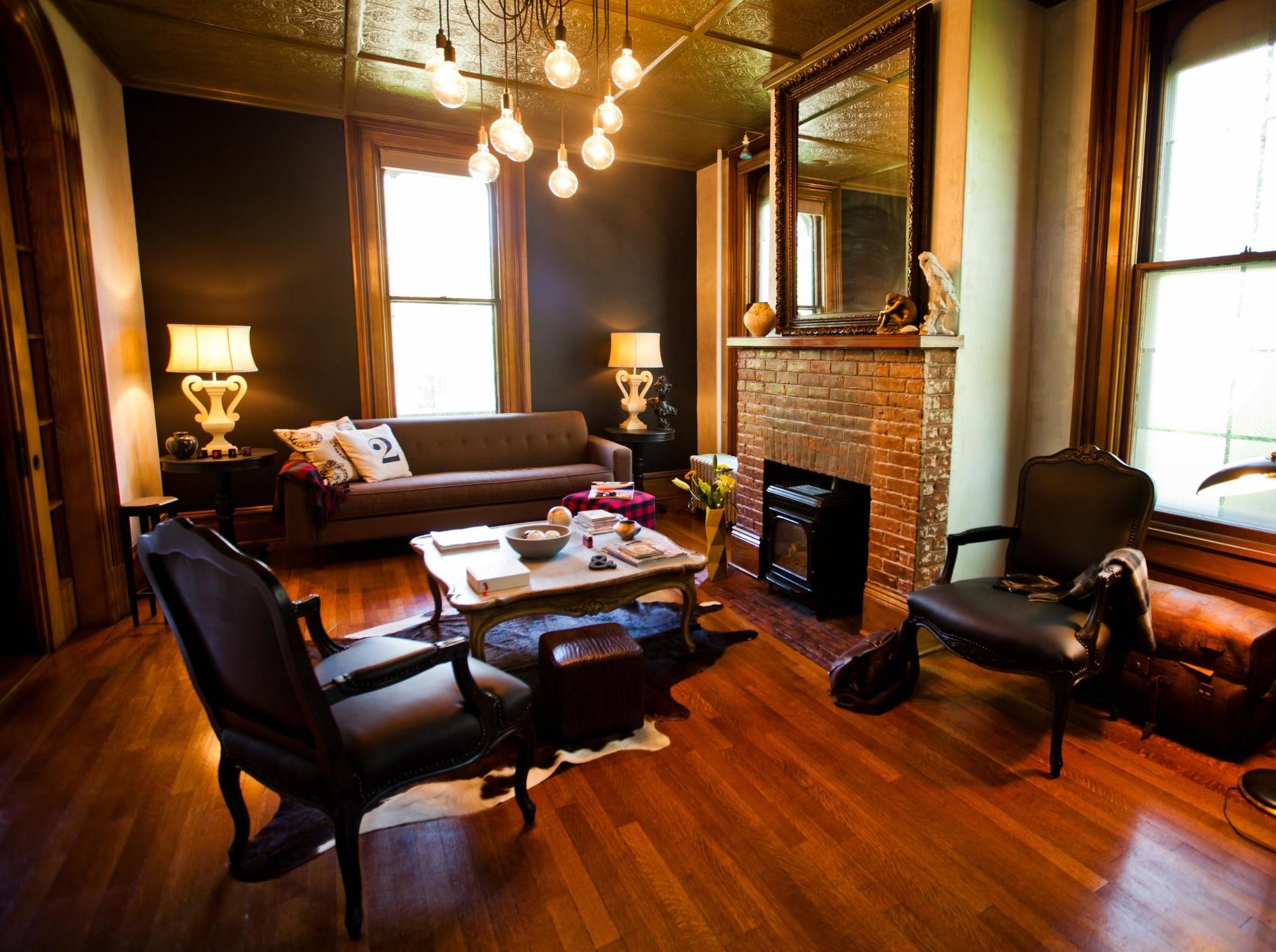 Hip Design Hotel - Bliss in History with views of the lake and mountains. For the ultimate, soul-restoring all-inclusive vacation in Burlington, VT. Book now!
"If you want an outstanding experience in Burlington, I highly recommend Made INN Vermont. . . . The homey, eclectic atmosphere provides much more than a hotel experience."
— Five-Star BedandBreakfast.com Review
"Best B&B in Burlington!
Such a fun and unique B&B! Its the perfect place for a couples romantic stay. The website advertises an "urban chic/rustic" inn, and that's exactly what it is. The décor is awesome - there's musical instruments, record players, chalkboard walls, eclectic furniture, books, and board games both in the rooms and the common areas. . . ."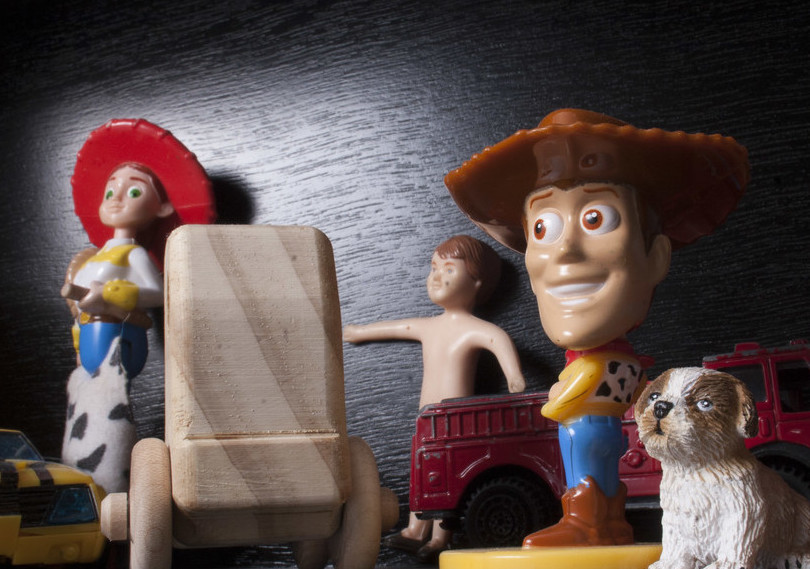 — British architect Russell Page, 1906-1985
Guests often resort to hyperbole when describing Made INN Vermont (and we'll interject some of their comments in the following).
We think of the INN as "Downton Abbey" meets "Uptown Funk," and Mockingbird Lane hybridized with Madison Avenue. We've heard it described as "chic," "boutique," "eclectic," "luxurious," even "quirky." We'll also mention "affordable." We eagerly await your visit and your comments.
"Fabulous, Sumptuous, Delicious, Georgous: "Need I say more? Oh, pet friendly! Linda must be a reincarnated fashionista from the glam rock arena days, this place is magically appointed, you could spend days rifling through albums, playing the guitars, reading through the art book library, viewing the outsider art originals, earring the farm to table fare...drinking rare local micro brews, telling tall tales. I love this place. Please adopt me." -- 5-Star TripAdvisor Review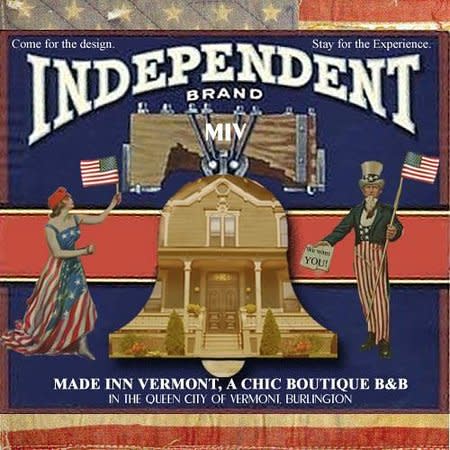 A Symphonic Experience. Pet And Child Friendly B & B.

We are always happy to recommend more traditional B&Bs for anyone elderly, or with mobility issues, or who thinks our unique "vibe" isn't exactly what they are looking for - and we recommend that potential guests review ours and other inn's websites and read guest reviews before they book. No innkeeper ever wants an unhappy guest and for most of us, innkeeping is a labor of love.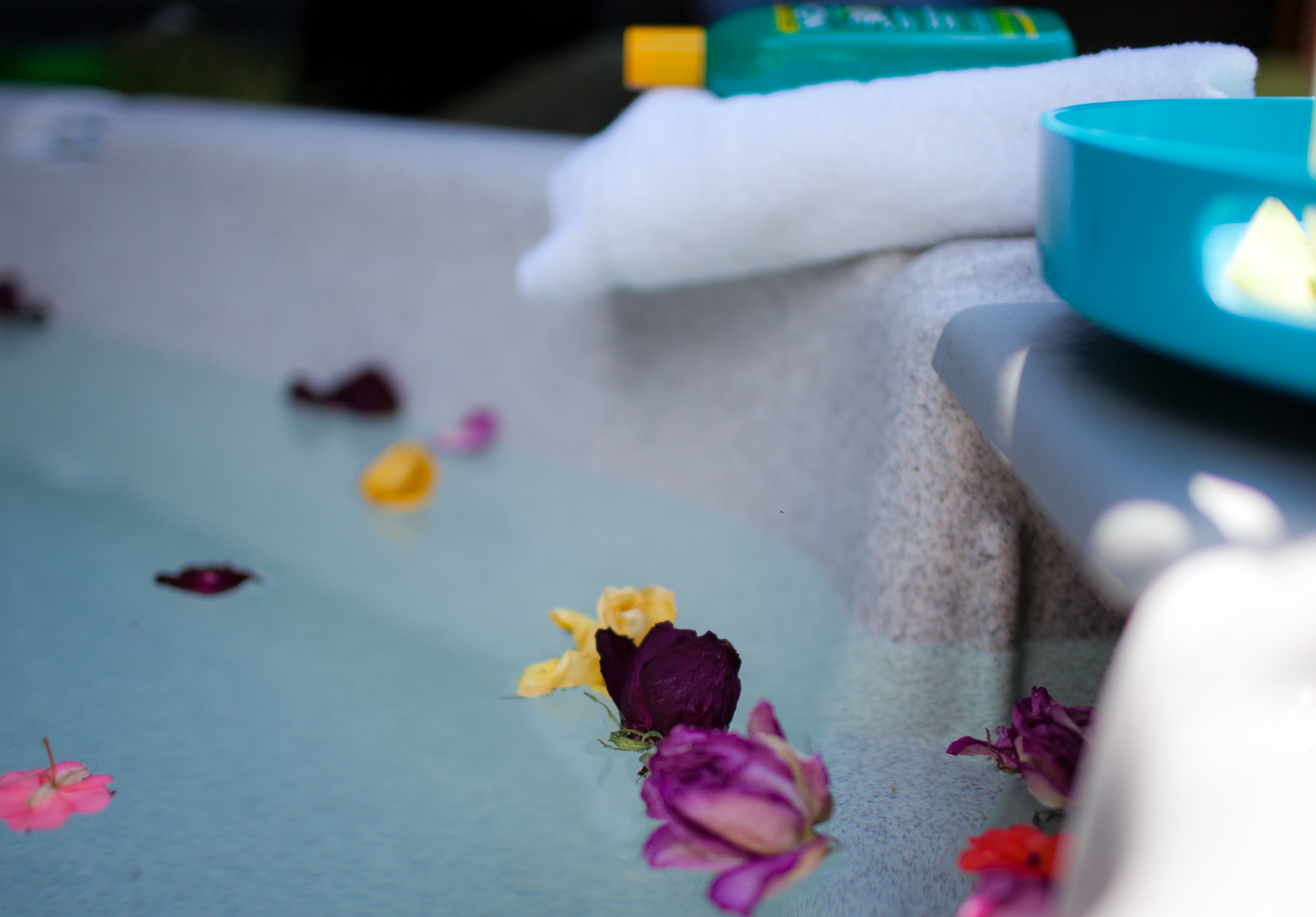 WE ARE A GENUINE EXPRESSION OF BURLINGTON'S DESIGN STYLE: A new generation designing within historic New England architectural structures, brilliantly created with the Victorian wit...adding in modern fun whimsical touches, and re-purposing with the a green preservation for history; resulting in a blended "hip-awe" (our word obviously).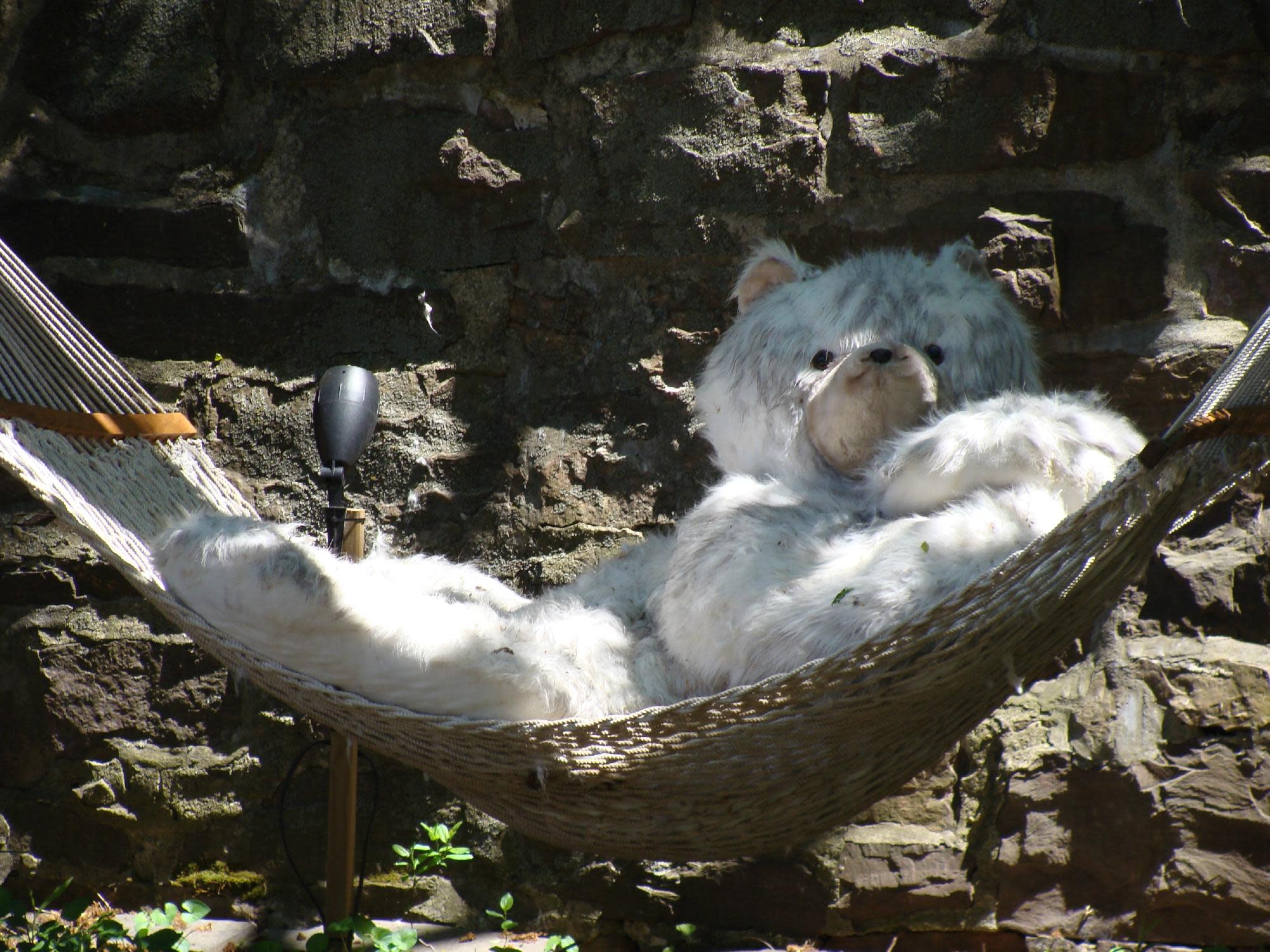 A LEGENDARY NEW ENGLAND CITY RETREAT: A LANDMARK BUILDING REBORN FROM HISTORY TO HIP.
HISTORY OF OUR BUILDING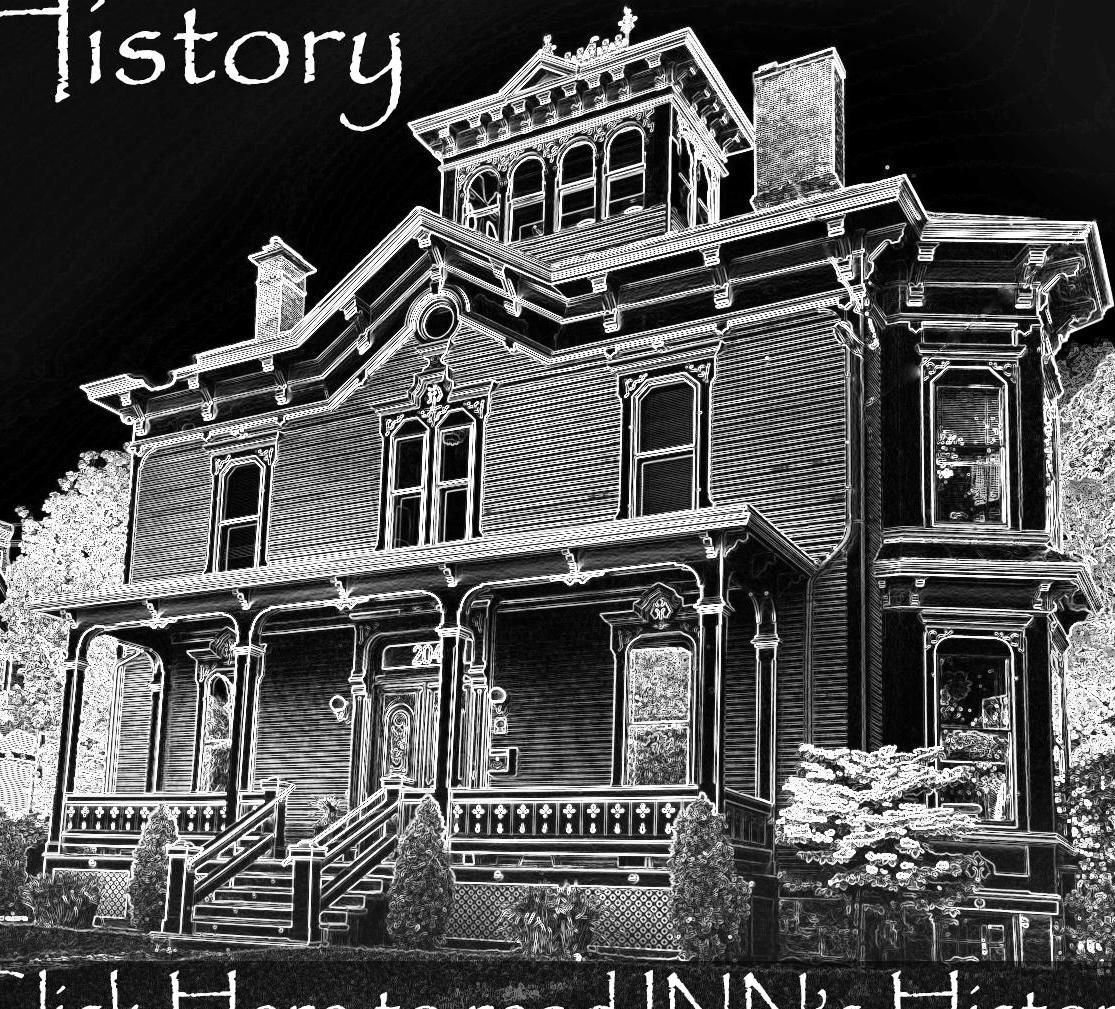 Our stunning Victorian home was constructed in 1881, and designed by noted architect A.B. Fisher, who designed many of Burlington's exemplary buildings and distinctive homes in the historic Hill District. Its Queen Anne-style includes Italianate features such as a rooftop, enclosed Belvedere, also called a "widow's watch," as legend has it that the mariners' wives would scan Lake Champlain, especially during stormy weather, waiting for ships to come into safe harbor. (They had cause for worry; there are over 300 historic shipwrecks at lake's bottom.)
204 South Willard Street was built as the residence for L.A. Walker, who owned a marble and granite works in Burlington, Walker Brothers. He later formed a partnership, Walker & Taplin, which dissolved after 1888. Walker resided in the home until 1907, when it was sold to an attorney, Edmund Mower, and his widow, Maud, lived in the home until after World War II. Linda Wolf purchased the property in 2006 and opened Made INN Vermont in August, 2012.
Media History: Made INN Vermont is a featured Editor's Choice in Air Canada enRoute Magazine May 2017 and named "Where to Stay" by Washington Post Travel; named Editor's Choice 2015 "Best New B&B" by Yankee Magazine; a "New Hip Breed of Inns by Travel + Leisure Magazine, 2015; a Top 10 Romantic Bed and Breakfast by Iloveinns.com, 2014; Top Five Vermont Winter Hotel by the Huffington Post, 2012; A Top 10 Winter Destination by Travel & Table for Chase Sapphire, 2012 ; a Bedandbreakfast.com Diamond Collection Member; and we've been ranked the Number 1 Burlington B&B by TripAdvisor since 2013; And we've been named a 2016 Fido's Favorite Award Winner. We Love Our Dog Visitors!
And the media has the nicest things to say about us and Burlington! See: offMetro and Montreal Gazette, and numerous on-line reviews as well.
A Burlington Vermont Landmark Building Reborn — Where pride, infectious warmth, artistry and passion for architecture abound.


The Deal: In With The New but never out with the old. Historic architecture re-designed!
Stellar Reviews
"This Bed and Breakfast is truly unique. The hotel is in a beautiful old Victorian house filled with charm and history. The rooms are all decorated uniquely. My bed was very comfortable and the room was quiet. There was a chalk board wall where people leave messages about their stay. "
— Five-Star Yelp Review
"Linda herself is fun to talk to & share a laugh. We felt completely welcomed into her home and comfortable. Linda takes time to show you the entire house & encourages you to explore all of the nooks & crannies. Linda also has excellent recommendations for places to dine, things to see & do while in Burlington. We absolutely loved every restaurant she suggested. "
— Five-Star TripAdvisor Review
"Historic Burlington Hill District's Bold Boutique Hotel Serene Old Town MiniRetreat"
— L. Wolf
"Revolutionary Experience. Historic and Chic."
— L. Wolf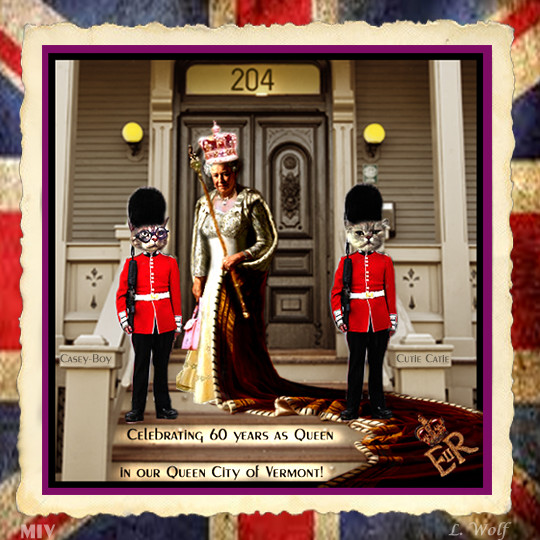 We were celebrating the Queens Birthday in Vermont's Queen City: Burlington, with our Inn Guard-Kitties: Casey Boy & Cutie Catie!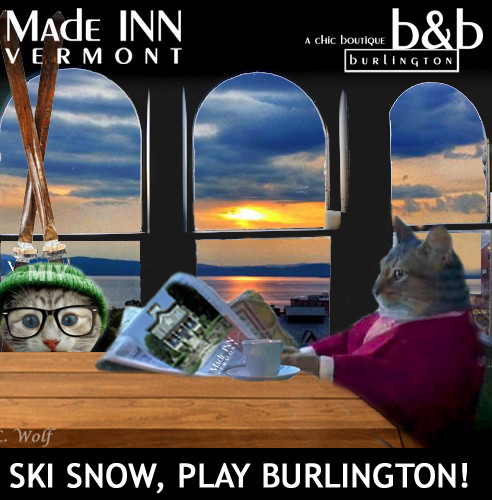 MAKING OF THE INN
Legendary New England City Retreat; Landmark Building Reborn from History to Hip.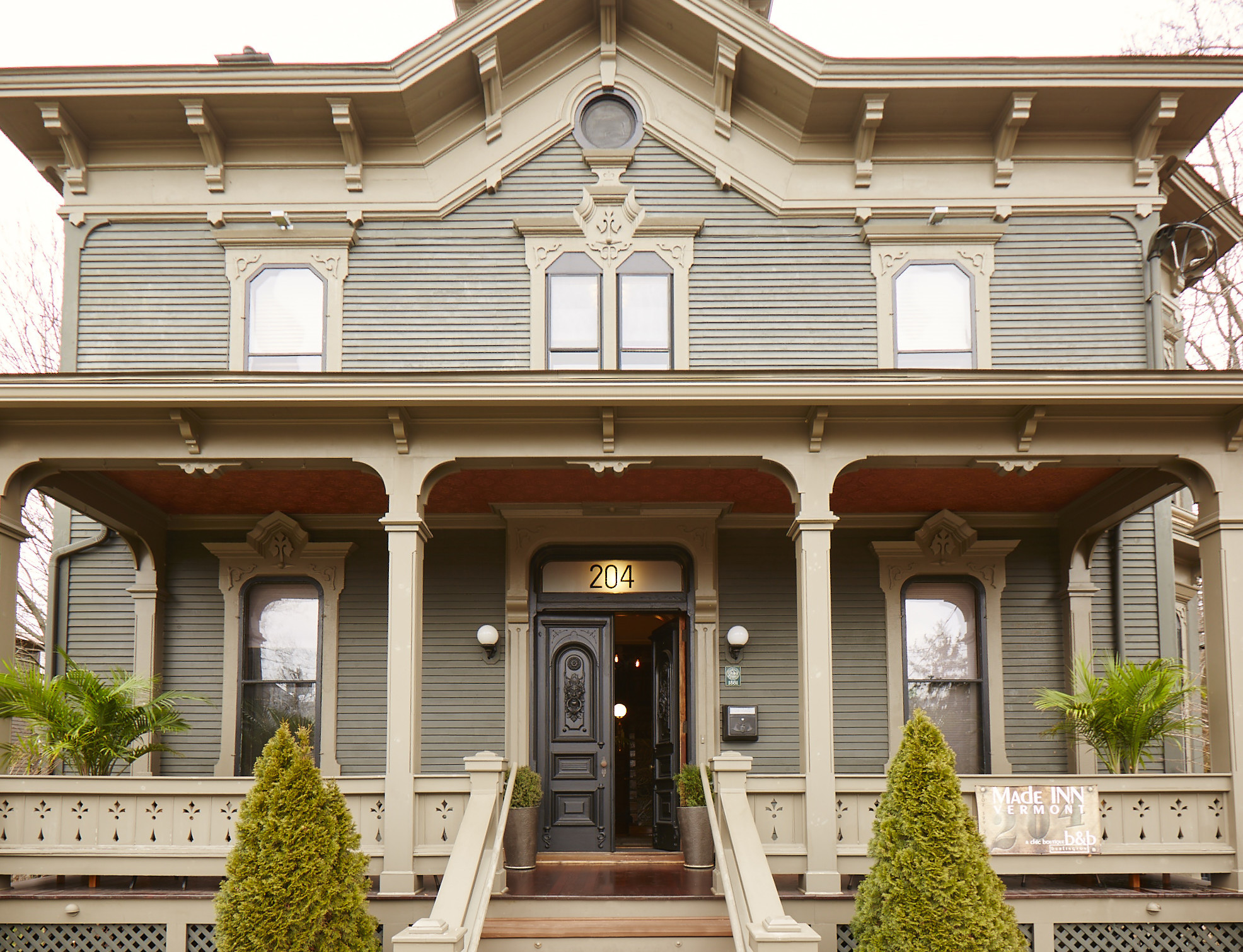 The Making of the INN:
2006 – Talented Artist and Brooklyn Jewelry Designer, Shelly Voorhees (some of her artwork hangs at the INN), daughter of your innkeeper/designer, Linda Wolf, makes a rare find: a small mansion in the historic Hill District for sale. She pleads, "Mother – you must buy this property and turn it into a Bed & Breakfast!" Linda acquiesces (that means she gave in) and thinks, "Fantastic! We'll be open in a year."
2007 – Application for permits begins and then permits to obtain more permits. Linda studies two new languages: Legalese & Government-speak. Restoration and renovations begin in compliance with The DaVinci Code. Daughter and boyfriend flee.
2008 – Construction work continues ad infinitum (that means forever). Linda consults a doctor who diagnoses that she is "hemorrhaging money."
2009 – Ibid. (Here we go again with the Latin: That means "repeat the above."
2010 – We're starting to sound like a broken record here. Except for the fact that, thanks to a couple of contractors, Linda learns to spell "unscrupulous."
2011 – Linda consults a dermatologist for what she believes is a scalp condition. Nope. Just an accumulation of plaster dust, saw dust, fireplace dust, attic dust, cellar dust, and everything except fairy dust.
2012 – The INN opens in late summer and is an immediate success and garners excellent reviews.
2013 – The INN continues to win awards in the hospitality industry. A lovely young couple who enjoyed their stay announce, "Someday, we hope to have our own Bed & Breakfast!" Linda fixes them one of her "secret recipe" sangrias and counsels them.
2014 – More awards, many more appreciative reviews. No sleep (except for Cutie Catie, everyone's favorite inn kitty).
2015 – During her usual welcoming tour of the inn, Linda tells a guest – a psychiatrist from Australia – that she has "a Belvedere." He begins a search of the medical literature until she explains that is what some call a cupola or a "widow's watch." She knows it's on her roof, but she hasn't seen it in a while. She's too tired to climb the stairs. It gets crazier every year...come and hear the new stories!
PLEASE NOTE: Linda thinks this project was a bit crazy and she doesn't recommend doing it anyway she did...NO, not right for her, but rather "Karma Re-Aligning"! She went to India, had her karma cleaned and still in Burlington...hmmm? What was that other life about?
Reviews
"Linda was amazing. Upon welcome, she spends just the right amount of time providing you with all of the maps you need, suggests some wonderful restaurants, gives you the tour, offers you some home-made sangria or a local beer (both equally terrific), and then leaves you to sink in to your room. But, upon discovering it was my wife's Birthday, Linda went out and bought 2 "Happy Birthday" balloons, two small cupcakes, and a lovely card."
— Five-Star Yelp Review
"My husband & I just returned from our birthday celebration in Burlington. I had been wanting to stay at Made Inn Vermont, for a long time, so I was very excited when we were able to book a weekend at this Inn. We LOVED every single aspect of our stay. The home is unbelievably gorgeous & so cool! The decor is very eclectic. Linda, the proprietor & Innkeeper, has done a remarkable job of renovating & decorating. It is full of detail & FUN!"
— Five-Star TA Review
"Brilliant Hotel, KNOCKOUT, UNIQUE, ORIGINAL, PERSONAL and INTIMATE!"
— Five-Star TA Review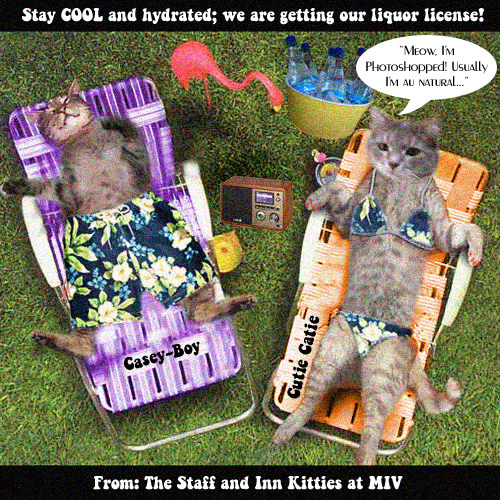 Cutie Catie, the (female) cat and Casey, the (male) cat enjoying backyard time!
THE VIBE
Soho funky meets New England History with an irreverent spirit of Tongue'n'Cheek as a "New Breed of INN", in a true authentic Burlington Vermont style.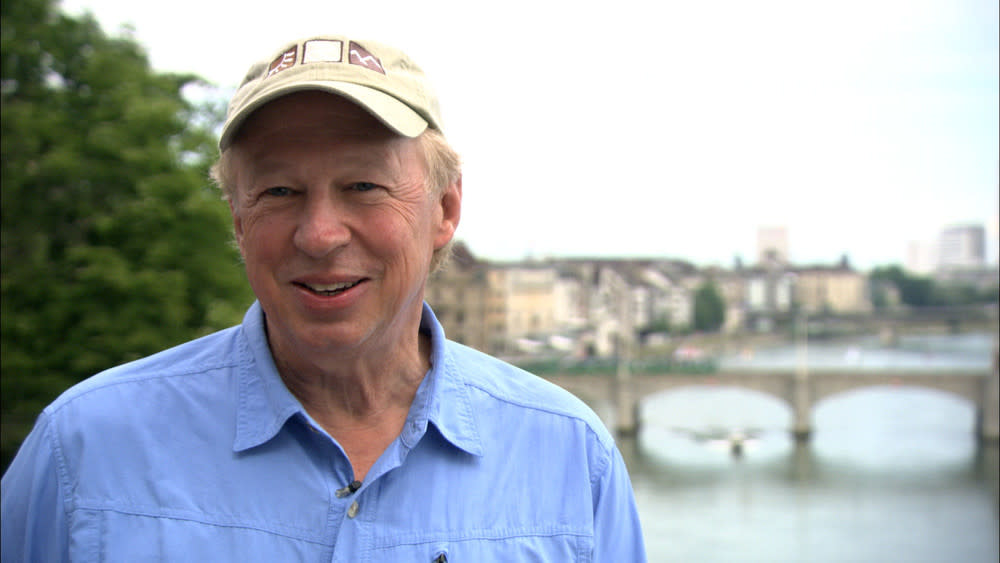 NOTABLE TRAVEL WRITER FOR HUFF. POST: RICHARD BANGS WAS A GUEST IN 2012 AND WROTE:
Linda, the owner, bounds down the stairs and offers up a spiked hot chocolate and decanters of personal warmth. She's as eclectic as the appointments: shelves of out-of-print art books, vintage games and puzzles, kitschy toys and bibelots, two plump and fuzzy resident cats (Cutie Katie and Casey Boy), cascades of Vermont-made maple candies, cookies, syrups, ciders, popcorn, cheesecake, even cotton candy – and an endless mix of re-purposed, antique, and modern tchotchkes – though, mercifully, no potpourri or lace doilies in sight.
Linda tours me about, including the widow's watch (or Belvedere), a room with a view of Lake Champlain, where she cryptically claims you can spot Champ, the giant serpentine monster, cousin to Nessie of Loch Ness. My guestroom sprawls like an overstuffed armchair, offering up a working record player with a selection of vinyl LPs from my high school years, nightstands fashioned from djembe drums, and colored LED lights under the bed. Yes, I am seeking restoration, dialing back to a perhaps simpler era, and this may be my hot tub time machine.
After settling in, I decide to walk to town for some nourishment and Linda recommends the locally made flatbread. The Vermont night air is brisk, crisp and bracing. On the tree-lined stroll, I feel the tension scurrying up and out of me. Shoulders unclench. The restorative power of Vermont is kicking in. I'd worked not long ago for Microsoft and Yahoo, and felt the noose of technology tighten; but here, now, it is looping away. The best antidote to too much electronic immersion is an increase in Vermont body contact, unplugged from devices, but plugged into the deep time of the Green Mountain State. It is for some a scandalous idea: the more high-tech we become, the more we need Vermont. The morning next, after a breakfast of Vermont eggs, local cheese, maple bacon, and cinnamon raisin French toast, I pack the car and am ready for the trip."
____________________________________________________
We are "all-embracing" as we appreciate everyone who comes to enjoy our INN with us. We love pets, we love children, particularly as our inn is designed with a theme for providing a generous and relaxed playful interactive indoor retreat - filled with games, books, delicious breakfasts, exclusive IPAs, multiple patios, Victorian porches, hot-tub and sauna, instruments and fabulous contemporary art....for everyone!
Wrong/right...whatever you/we BE, we're heartfelt and working hard to keeping it "real" at our Burlington Vermont "Club-Like" Bed and Breakfast.
Real Brew, Real Crew, Real Views, Real Food & Real Fun in an Authentic 1881 Historic Queen Anne Victorian as a Downtown Burlington Hidden Gem of an INN! If you have an understanding of our service and you like our ideas we have presented here...we ask: WHY STAY ANYWHERE ELSE? Really, why stay anywhere else?
A New Design Hotel - Discover a Unique Historic Luxury INN in Downtown Burlington, Vermont. 802.399.2788

Come to Made INN Vermont Bed & Breakfast for an authentic YOLO experience. We're hip (some call us the "hip-replacement" B&B), chic and urban. We tweak your enjoyment, we tweet, we text, we've even been known to twerk on occasion. In other words, we aren't your grandmother's first choice (unless she's extremely plugged in and has the kind of blue hair Katy Perry would wear). We are the Millennials' favorite and some even bring their Baby Boomer parents along (grandma is welcome, too, but we don't have an elevator). We are within an easy walk of some of the best of Burlington's fine dining and music scene, and the Lake Champlain waterfront. Burlington is so cool, we even have "Green Cab" (which is our favorite Burlington cab co) & Uber! (We even know that LOL does not mean "lots of love." ROFLMAO!)
LGBTQ friendly? Puhleese...we've been that since before they added the "T" and the "Q," and made "L" the first letter.
If you're the sort of potential guest who understood all the references and acronyms in this description: How soon can you be here?!
All of our guests inspire happiness!
The majority when they check-in
(The rare few, when they check-out.)
Yes, we have a sense of humor. Laughter and good times are part of the Made INN Vermont Best Burlington Bed and Breakfast Experience.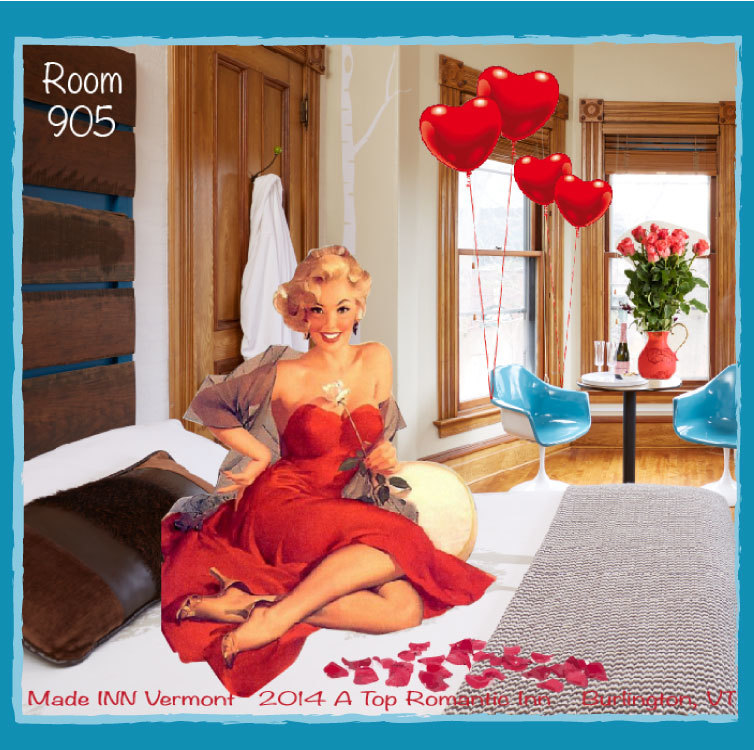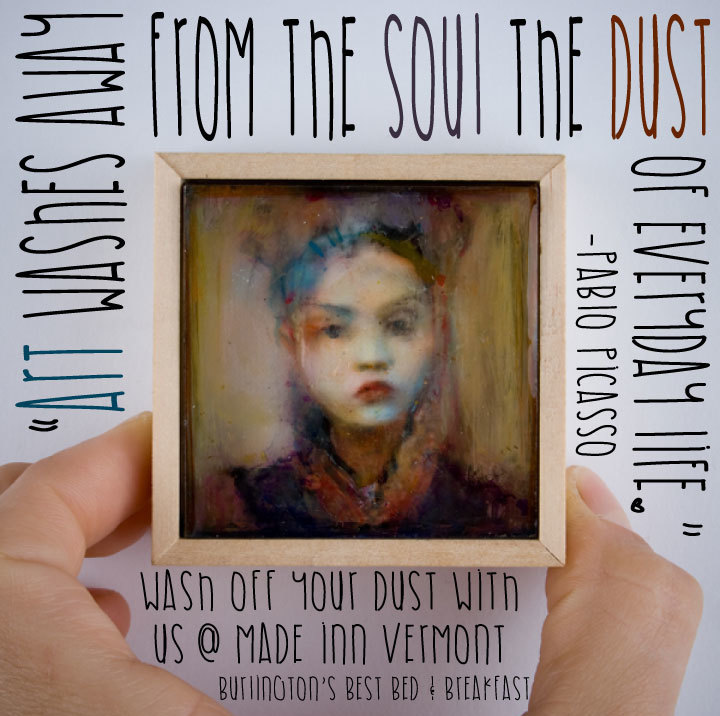 Small Portraiture from Shelly Voorhees' Miniature Collection.
THE ETIQUETTE
We think of the INN as "Downton Abbey" Meets "Uptown Funk," and Mockingbird Lane Hybridized With Madison Avenue. We've Heard it Described as "Chic," "Boutique," "Eclectic," "Luxurious," Even "Quirky." We'll Also Mention "Affordable." We Eagerly Await Your Visit and Your Comments.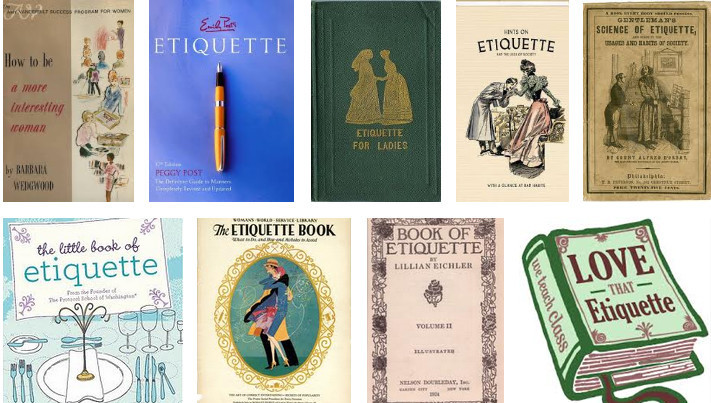 WHAT POTENTIAL GUESTS SHOULD KNOW ABOUT Made INN Vermont B&B:
We cater to the infamous One Percent that our Senator, Bernie Sanders, frequently refers to. In low season, we capitulate more than a Clinton, and bring that down to the Three Percent. (Just kidding, of course. All of our guests are as distinctive as we are! And so far, Donald Trump has never written a nasty tweet about us.)
Our breakfasts are always homemade, sumptuous, and filling. How "elegantly" they are plated depends on how much sleep your innkeeper has had.
Innkeeper and staff are free-spirits and our inn reflects that plus the Burlington and Vermont "vibe." That spirit is infectious (and we also responsibly serve local, award-winning IPAs and secret recipe sangria). We have all kinds of perks such as an outdoor hot tub. However, our neighboring property owners will appreciate if you don't howl at the moon.
Our local weather report for this coming weekend: "Purple rain"
HELP US STAY ECO FRIENDLY:
Please remove shoes at the door. During the winter months we are concerned with protecting our original hardwood floors from the elements. During the summer months, we'd like to protect them from your loud, neck-breaking pumps.
Please enjoy all shared spaces. We only ask that you turn off any lights that you turn on to enjoy the space.
Please conserve electricity by leaving a welcoming light on when you leave for the day or night. (Turn on lights as needed but please remember to turn them off when no longer in use)
Please use our bathroom exhaust fans during your shower and leave running for the housekeepers to turn off.
Please double-check that exterior doors are latched when coming and going from the INN.
Please do not hesitate to call Linda @ (802) 399-2788 if you have questions necessitating a timely response.
Please let us know in advance of any dietary restrictions.
Pets should be crated when left unattended in any guestroom, unless otherwise discussed with the INNkeeper. Please leave an emergency contact number with the INNkeeper if leaving dog unattended.
Please close the cupola hatch and third floor entry door during the winter months to conserve heat.
Please return books, games, records, DVDs to their original places after enjoying.
Please inform the INNkeeper if you would like to forego housekeeping.
To assist us in housekeeping training, please share your observations before your departure.
Please close your guestroom door upon departure and leave keys for the room and bathroom on the desk or in the locks.
We are always happy to recommend more traditional B&Bs for anyone elderly, or with mobility issues, or who thinks our unique "vibe" isn't exactly what they are looking for - and we recommend that potential guests review ours and other inn's websites and read guest reviews before they book. No innkeeper ever wants an unhappy guest and for most of us, innkeeping is a labor of love.
Only registered guests are allowed access to the second floor (there is a "powder room" off the café area for guests and their visitors)
All visitors must be pre-approved by the INNkeeper.
Visitors may not use the rooftop cupola, upstairs game, massage and sauna room. Visitors are welcome on the ground floor, porches, gardens and outdoor seating area with the exception of the hot tub.
Visitors are expected to depart by 10 p.m.
Check-in is between 3-6 p.m. Please contact the INNkeeper to inquire about early check-ins. If you're flying in or arriving in Burlington earlier than 3 p.m., we can usually accept your luggage and recommend places to have a relaxing lunch.
Check-out time is 11 a.m. Please contact the INNkeeper to inquire about late check-outs.
If you do not inform us of a late check-in, it may be considered a "no-show" with all the applicable charges.
A complementary welcoming beverage or two are provided at check-in. In accordance with Vermont state law, our beer and wine license does not allow "bring-your-own-bottle." Please imbibe responsibly.
Complementary snacks are available throughout the inn
Guestrooms are as sound-insulated as possible.
Please be respectful about volume and the peaceful slumber of our other guests.
If you're happy, we're happy, but jumping up and down on the bed in glee is strongly discouraged (especially if you've had a complementary beverage), and we did not sound-insulate the bathrooms; wish we had, but this is at least warning!
And all of the above is subject to the Innkeepers discretion.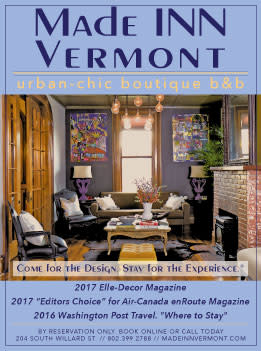 STAY SPECIALS
MARDI GRAS - 2018
Required to claim special sale @ time of Booking. No other discounts can be applied to a special. You need to call us and book directly with us to recieve rate adjustment for specials.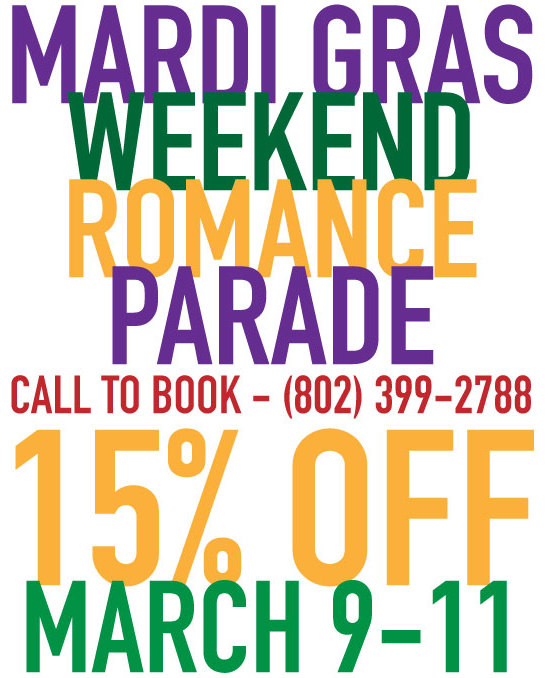 VALENTINE'S DAY - 2018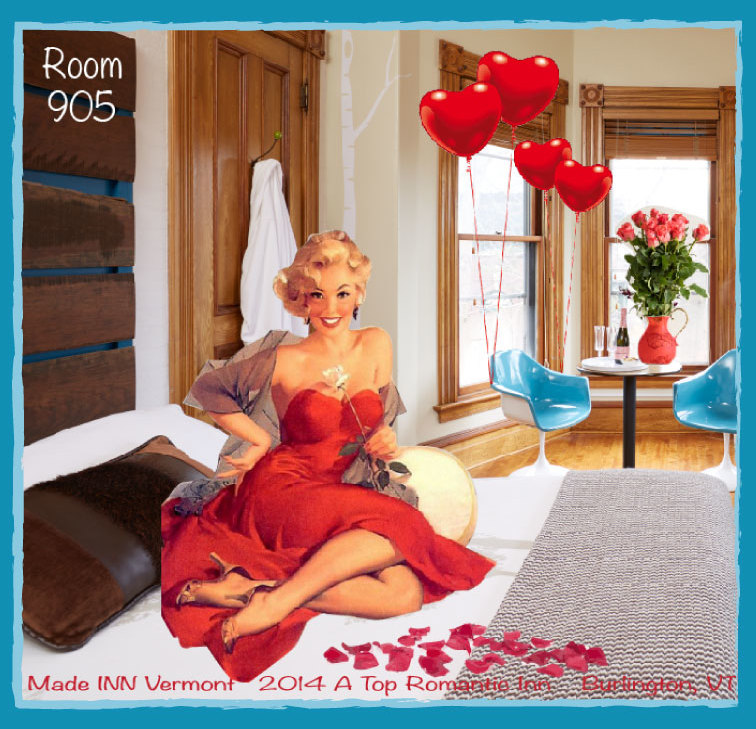 What better place to enjoy a romantic 😘 weekend than at Made INN Vermont during Valentine's weekend (February 9-11) and mid-week for you hard-core lovers 👩‍❤️‍💋‍👩👩‍❤️‍💋‍👨👨‍❤️‍💋‍👨. Book 2️⃣️ nights between February 9 + 15 and get a special Valentine's 🎁, including either a 4-pack of my little cupcake treats, Snowflake Chocolates and chocolate covered 🍓 and a bottle of 🍾. Your room will be adorned with red ❤️ balloons 🎈or 🌹. Soak in our private outdoor hot tub. Don't forget to book your dinner reservation early, we recommend Honey Road Restaurant, The Gryphon, Pizzeria Verità, Trattoria Delia, Misery Loves Co., Butch + Babe's and Linda's favorite #vegetarian restaurant, Revolution Kitchen!
PRESIDENT'S WEEKEND - 2018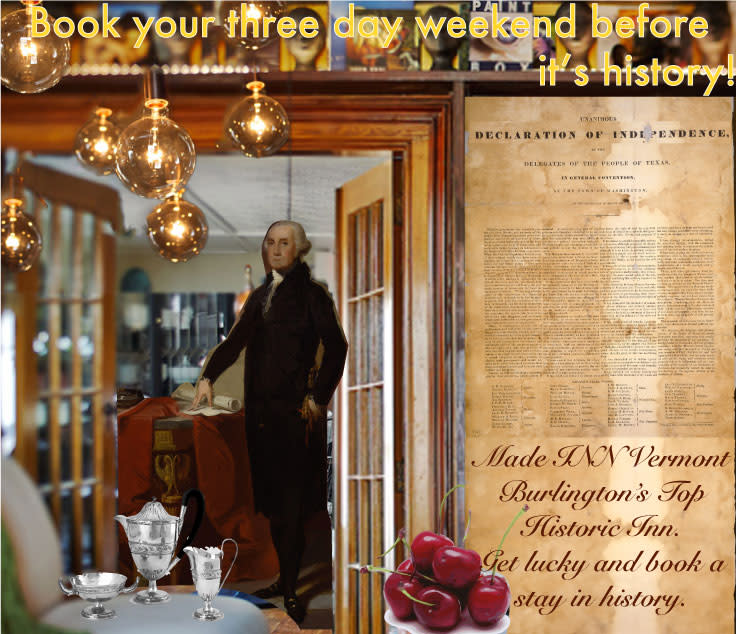 Book your last-minute Presidents Day long weekend (February 16-19) getaway and stay at the smallest, cutest and real patriotic inn in #btv. The Alchemist's Heady Topper, wine, private outdoor hot-tub, 4️⃣t️h floor cupola with views of Lake Champlain and the Adirondacks are all included with your booking. In the morning 🌞, enjoy our red, white and blue waffles or 🦀 cake benedict and explore our beautiful city in the afternoon.
THREE DAY SPECIAL - 2017
Get an extra night in the mountains! During the month of March get one night free when you book three nights in a Classic Room.

No promotional code needed. This offer is good for any 3-night reservation made March. 1-April 1. The deal will be applied at upon reservation confirmation. It is non-transferrable and may not be combined with any other offer. For more information, contact us.
Special Details
Never Pay Full Price if you have stayed before. So stay today to get your "STAY CREDITS", GOT TO START SOMETIME!!
No code needed
Applies to Classic Room bookings
Subject to availability
Call Linda directly at (802) 399-2788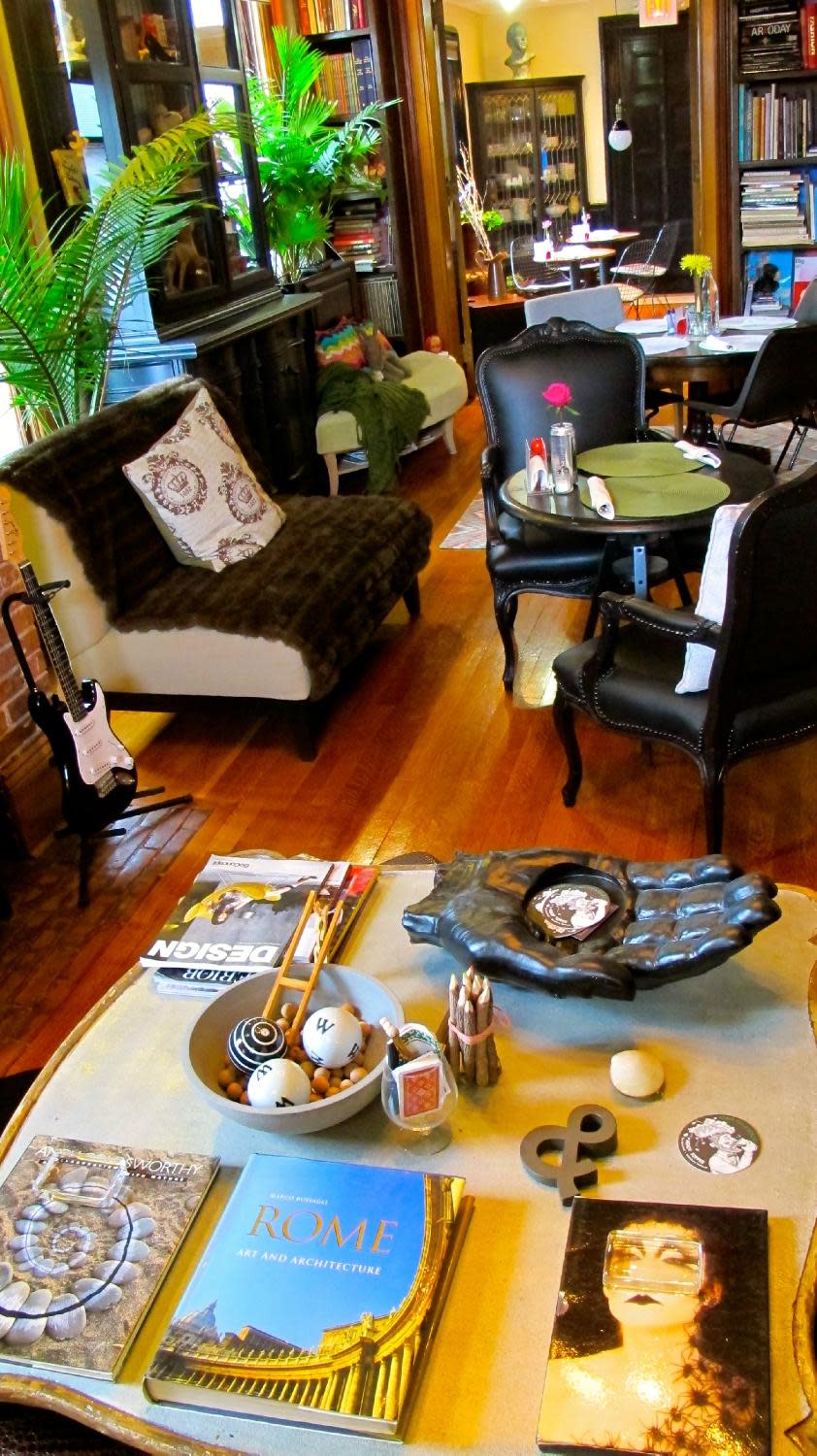 INN ARTISTS
Coming Soon...