THE RED-TAPE
BURLINGTON'S ONLY PET & CHILD-FRIENDLY HISTORIC B&B: ENJOY RELAXED, CASUAL, FAIR & RESPECTFUL POLICIES. QUESTIONS? CALL US!
RESERVATION & STAY POLICIES: Questions? Read Below or Call 802-399-2788
For fast reservations and booking, please use our online booking engine. Reservations can also be made directly by calling Linda at (802) 399-2788. If you are travelling with children and/or a dog, please call directly to discuss your needs and animal temperament.
Made INN Vermont is a heritage property with no elevator. All rooms are located on the second floor. If you have a disability or mobility issue, please call us in advance, and if we can't accommodate your special circumstances, we'll be happy to recommend suitable accommodations for you.
For 1 night stays: Full payment is required at the time of making a reservation, quoted room price + 11% rooms and meals tax
For 2+ night stays: A 50% deposit is required at the time of making a reservation for total charges, plus tax. The full amount will be processed at the end of your stay less the 1/2 deposit.
CANCELLATION POLICIES:
To receive a refund, less a 10% administrative fee, cancellations must be made 21 days or more in advance. Holiday Weekend and multiple room bookings on any date require 45 days in advance. College Graduation Weekends require 180 days in advance. Early Departures will be charged as booked, no refunds.
If a cancellation is made 20/44/179 days in advance or less or you are a "no-show", you will be charged for all nights reserved, unless we can resell the room(s). If resold you will be refunded the room charges less a 10% administrative fee.
MINIMUM NIGHT STAYS:
There is a two-night minimum stay for all weekends from May 1st through October 31st. Some holiday periods require a three-night minimum, including (but not limited to) Memorial day, College Graduations, 4th of July, Labor Day, Thanksgiving, Christmas and New Years.
ARRIVALS AND DEPARTURES:
Check-in is at 3:00 pm, check-out is at 11:00 am (easy-breezy check-in/check-out). Should you arrive earlier, you are welcome to drop your bags off, possibly get an earlier tour and information about Burlington if we are available for an early check-in. Late check-ins and late check-outs are subject to additional $20 up-charge. On the day of your departure, we kindly request that you vacate your room no later than 11 am.
SHARED SPACES:
We ask that our guests not play instruments past 10 pm in the common areas of the INN, you may take any instrument to your room and play, as those rooms are insulated for sound, and of course, we expect our guests to respect sound levels for the enjoyment of all our guests.
Please review hot-tub instructions and rules before partaking in a luxurious soak.
Enter and exit the tub carefully, no jumping or diving.
Do not enter the hot tub if the temperature reads over 104 degrees F.
We have plastic tumblers available in the café, no glass items in or near the hot tub.
If you have a medical condition, or are on medication, are pregnant, or elderly, you should consult with your doctor before using a hot tub.
Alcohol and any other recreational substance use while in the hot tub are not permitted.
Children under 12 are not allowed and all children must be supervised by an adult.
Do not use soaps or oils while in the hot tub.
Turn off the high jets after each use. Do not press the "Mode" button at any time.
Close the hot tub cover after each use.
The hot tub is designed to accommodate no more than six adults.
Quiet hours should be respected between 11 pm and 6 am.
ALCOHOL:
The Inn reminds our guests to not drink and drive. We are licensed to serve wine, beer and hard cider to our guests. We are the only Burlington bed & breakfast serving The Alchemist's Heady Topper and Focal Banger. You may consume beverages we've provided in the shared indoor and outdoor spaces of the INN. We follow all Vermont State Laws regarding consumption, reserving the right to limit or refuse to serve alcohol to guests who may appear intoxicated. You are limited to a package rate for the number of drinks included, we will charge for drinks beyond the package. Please call Linda if you need clarification. New Service: We no-longer include (2) Heady Toppers in the each room mini-fridge, but we will serve you your (2) Heady Toppers included in your stay-rate upon request. Vermont has strict liquor laws, and we must meet them; including checking and observing our guests before service.
INDOOR NON-SMOKING POLICY:
Made INN Vermont is located in a historic home and all interior spaces of the Inn are absolutely non-smoking. Guests who smoke inside the inn will be assessed a deep-cleaning fee of no less than $250. The burning of candles or incense in any of the rooms is strictly prohibited.
OUTDOOR SMOKING POLICY:
We offer a rear outdoor lounge area designated for smoking that we feel welcomes everyone and ask that you be sensitive if non-smokers are present.
VISITORS TO THE INN:
Only booked guests are allowed above the first floor. Because of our extreme smallness and extra privacy "boasting"....guests of guests need prior approval by the INNkeeper. If our booked guests wish to entertain visitors after receiving approval, we ask that do not entertaining above the first floor. Your guests are welcome in parlor/cafe, our outside Victorian porches or one of our garden patios and your visitors leave by 10 pm.
Visitors are not privy to the same amenities as our guests. If your guest would like to partake in any of our amenities, please discuss with the INNkeeper to determine the additional charges.
BREAKFAST:
Breakfasts are offered between 9:00 am and 10:00 am. If you happen to have certain dietary restrictions, please let us know ahead of time, and we will do our best to accommodate them within reason.
GROUP RATES:
Should you wish to book part or all of the property for your wedding, anniversary, birthday celebration, or corporate group, please contact us at 802-399-2788 or stay@MadeINNVermont.com discuss your custom arrangements. All group stays will be accessed an additional 20% up-charge.
SAFETY & SECURITY:
This is a private home and your home away from home for the duration of your stay. Please remember to keep your room and the front door securely locked at all times. You will be provided with a unique access code - do not share it with anyone other than your companion(s) listed on your reservation confirmation. Unless you have purchased an early check-in and/or late check-out option, your access will be active starting at 3:00 pm on the day of your arrival through 11:00 am of the day of your departure.
Come for the Design. Stay for the Experience.®
Or come and have a drink with Linda, but she's shifted...tea-totalling and vegetarian as well, now. Thank God she has lived long enough to have some fun stories...see if you can get some out of her. Good luck!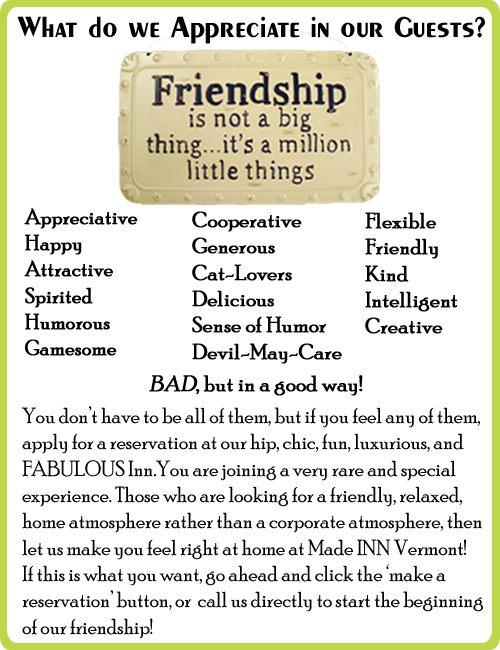 CHILDREN:
Kids of all ages are most welcome! Well-mannered children and parents who closely supervise are especially welcome. (Poorly-mannered children will be given an espresso and a free puppy at check-out.) We have board games, children's books, toys, and nationally known Vermont Teddy Bears (their factory with tours is a short drive from the inn). We might even have a ghost or two lounging about in our attic. Think of this as "Grandma's House" (if grandma was really hip and cool). Note to parents: we have staircases so hand-holding is recommended for small children.
*If you're traveling with children, please book your reservation with us by phone, rather than on-line.
Not all of our rooms easily accommodate children and we like to make special arrangements for each child. We have a Pack 'n Play for younger kids and in some rooms, we can add a fold-away bed for an older child (or smallish adult)*. For the ultimate comfort, we recommend booking two rooms for parties larger than three.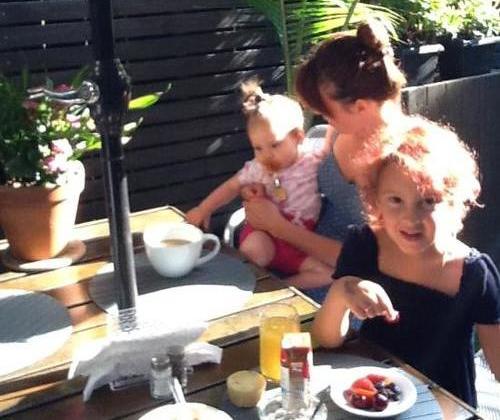 PET POLICY:
There is no additional fee for pets. Please call the hotel directly to reserve a pet-friendly room. Pet stays can not be booked online. Pets will be approved based on our short interview. We seldom disapprove, but this in consideration for the quality of stays for our other guests. Pets are fortunate to stay with their family at our INN. We ask that you consider leaving a tip for our staff for the extra cleaning involved.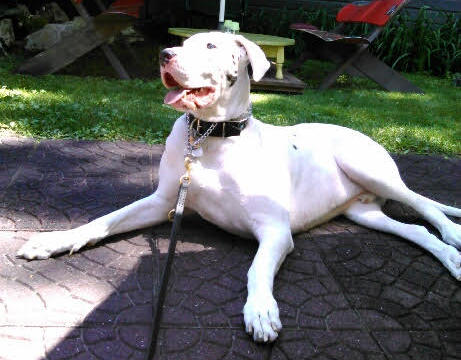 TOURS: We no longer give perspective guests tours, our inn is too small, and it's troublesome to the guests staying we have discovered.
Our INN is not "just" an older house . . . It's an "1881 HISTORIC LANDMARK BUILDING." And just to address the sounds, we went to great effort and believe we are the "only" Historic Burlington B&B w/ insulated sound reducing walls. We ask, why stay at a historic B&B and expect "no creaking"? FYI: A medium stayed with us, and has reported we have a ghost . . . and the ghost "creaks as well, although it's been a while.!"---Linda
Come for the Design. Stay for the Experience.®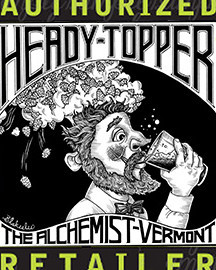 The Only B&B in Burlington that the Alchemist Brewery Delivers to and in your package for our all-inclusive Burlington B&B stay is :
(2) per person/ daily package