All-Inclusive Amenities
OUR FINE B&B PERKS: HOT TUB, GOURMET BREAKFAST, FAB VIEWS, CONTEMPORARY ART & TOP VERMONT IPA'S
Front and back of house key-less entry
Pillow top platform beds. Premium quality, luxurious pillows and linens. We use only hypoallergenic, all natural detergents.
Mini-refrigerators stocked with snacks, beverages, and Vermont delicacies.
Plush bathrobes and slippers
A blackboard wall with chalk, for the creative moments.
A record player & vinyl collection in every sound-insulated guestroom.
In-room heat and air conditioning control (seasonal) and fan.
WiFi access throughout the INN
HDTV with Roku and access to HBO, Showtime and Netflix
Pet-friendly accommodations and treats.
Daily housekeeping and upon request turn-down service.
An alarm clock, desk, supplies, desk chair, plus desk safety box.
"Welcoming drinks" *... we're the only Burlington B&B serving The Alchemist's Heady Topper and Focal Banger (2 per guests).
Seven Days-our award-winning, local weekly newspaper
Licensed massage therapist available by appointment.
Choice of private assigned keyed and fully supplied bathrooms Gilchrist & Soames (BeeKind) products, just a few steps away.
*We are all-inclusive, and your alcohol (wine/beer) is part of your booking package, (but it's limited), and has to be served to you. Each alcohol item served beyond the "all-included booking package" alcohol fulfillment service will be charged additionally (per Vermont State Liqour License). Further, we no longer offer Heady Toppers in the room mini-fridges, upon request we will serve the packaged Heady Toppers to you. Just let us know when you want them.
Romance & Pampering
"Top 10 Romantic Bed and Breakfast" by ILoveInns.com (2014)

We adore romance and surprises and have hosted engagements, honeymooners, anniversaries - we'll leave it at that, use your imagination. For a good time, call Linda. :-) She'll make it happen for you. (A usual booking is all-inclusive, no hidden charges. Skywriting, dancing bears, X-rated ideas (maybe) . . . hot air balloon rides, and the Mormon Tabernacle Choir cost extra.)
Come for the Design. Stay for the Experience.®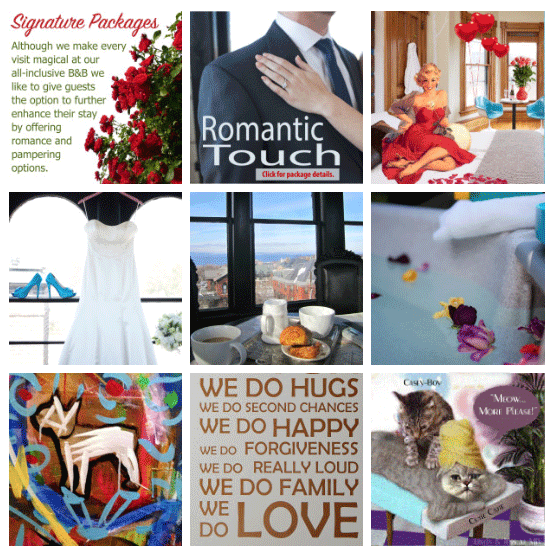 The Below DECADENCE Button (means): Choice of Heady Toppers, Focal Bangers, *Snowflake Chocolates, Red Balloons, Champagne, Mini-Cupcakes, Candlelight, Rose Petals, Romantic lighting, Romantic Music & Albums, Fab (almost SINFUL) Breakfasts with Mimosas and Bellinis...Late Check-Outs, Private Hot-Tub Soaks, Private Sunset-Sips in our 4th Floor 12-window Cupola, IN-Room Massages. DREAM IT UP! Select from items our list and create your IN-ROOM ROMANTIC FANTASY!) (Keep in mind: "we mustn't scare the children or the fur-pups" or break Vermont Liquor Laws). * additional fees will be access for extras beyond the all-inclusive package service.

Art Book Library & Game Parlor
Our Burlington B&B Offers Dramatically Decorated Designs with Contemporary Museum Quality Artworks

Discover a new way to stay in history! Find fun and entertainment in our library and parlor. Get lost in our collection of art, history and design books or choose a game and get competitive with your friends. Put on a record and have a dance party (but, don't wake Linda). Let loose and make some memories that are sure to last.
Collection of vintage toys, games, and musical instruments
An ever evolving collection of artwork
Subscription magazines and periodicals


24/7 Self-Service Cafe
At home, we bet you have a granola bar for breakfast. 
Welcome to our world: fresh, locally sourced, Vermont ingredients with an international flair and our breakfasts don't contain a single calorie (we can pretend, can't we?). Bon appetit!

Half of a bed and breakfast is, well... breakfast! We have elevated breakfast to an art form. We feature locally grown, natural, organic produce and baked goods. Our menu changes seasonally and is always delightful and delectable. Champagne is the perfect complement to our made-to-order breakfasts (a mimosa could also be arranged). Why stay anywhere else?
No doubt you've heard of Vermont maple syrup – we've got you and your french toast covered! Vermont is "foodie paradise", and Burlington is her crown jewel. Breakfast is served every morning from 9-10 a.m. If you have any special requests: food allergies, special diets, kids who hate anything that doesn't come in a box promoted by a rabbit - or if you have to depart earlier than 9 a.m. – it is important to inform us before hand.
Self-serve Keurig coffee maker, with a variety of organic coffees and teas, and candy selection
Fully stocked mini fridge with snacks and drinks
Ice machine, microwave oven and toaster oven
Afternoon drinks, teas, snacks, and whatever we may cook up.
Yes, you can wear your "jammies" to breakfast. In fact, we recommend loose attire. What about a robe?
Come for the Design. Stay for the Experience.®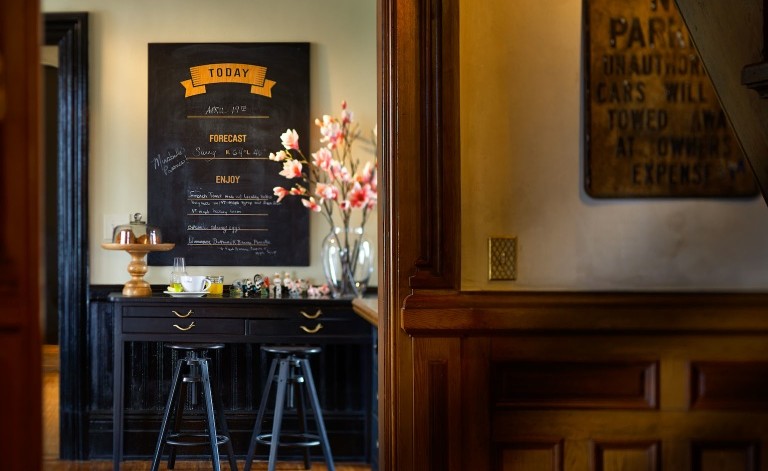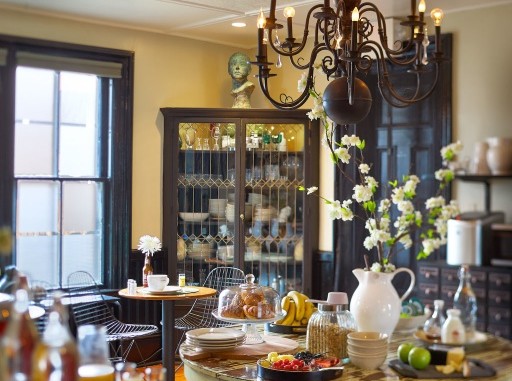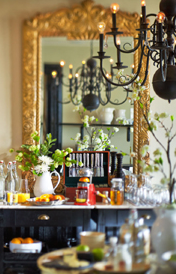 Patios, Porches & Cupola
Our Vermont Bed and Breakfast offers a photo-op around every corner... explore the INN
Like relaxing in the shade with a nice cool drink? How about in the hot tub under the beautiful Vermont night sky? If those don't strike your fancy, you can always catch sunset or sunrise from the belvedere, an original Victorian structure built to promote the escape of hot air in the summertime, and provide natural, effective cooling to the lower floors. Even those Victorians were concerned with being green!
Our outdoor areas are varied and comfortable. We have two garden areas with lounges and tables, one non-smoking and one smoking, to soak up some rays or read a good book under the shade of the umbrellas. There is a patio garden area as well, where we have tables, chairs, umbrellas, and the 6 person hot tub for guest enjoyment.
Bicycle stand (please bring your own bike lock).
Telescope for stargazing from our cupola.
Burton snowboard picnic area
Fountains and hammock

360 degree views of Burlington from our 12 window cupola; the perfect spot to enjoy your coffee or cocktails.
Come for the Design. Stay for the Experience.®
Private Designer Baths
When's The Last Time You Bathed With a Rubber Duck For Company?
2017 Elle-Decor Magazine (European Issue)
Offering four boutique designer bathrooms in our Vermont luxury INN.

Our INN is historic. Therefore, each private bath is separated from the bedroom, just footsteps down the hall. This allows guests to select (upon availability), when they arrive, the bath they prefer depending on bathing style preferences. Your private, keyed bath, is specifically designed to provide our guests with a unique European aesthetic. Each bathroom has an individual heating unit that is adjustable so each guest can choose their own level of comfort. All bathrooms feature BeeKind products, hair dryers, and sumptuous towels.
We have two baths that feature claw-foot tubs, with modern Victorian style handheld shower sets. The other two bathrooms have huge walk in showers, big enough for two, if you desire.

Come for the Design. Stay for the Experience.®